Hello Dolly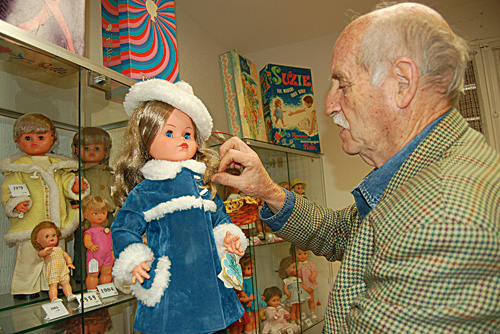 Have you visited the Musée Bella in Perpignan yet?
The Bella factory in Haut Vernet, Perpignan was home to the largest doll manufacturing company in Europe – dolls which have been an enormous part of the lives of generations of girls. No longer available in the shops, they are now prized collector's items.
In 1946, Lucie and Salvi Pi worked from their Perpignan apartment to create a doll they named Bella, an immediate success. The demand was such that they had to build bigger premises
French doll Cathie, was manufactured in 1967 by Bella in Perpignan. In 1969, she was created with a growing hair feature similar to Tressy, doll of my childhood. With 600 people employed in its workshops, and another 150 women working from home to make clothes, Bella was amongst Perpignan's biggest employers.
Working at Bella required a lot of skill and attention to detail: many tasks could not be mechanized, such as assembling dolls, ironing outfits, dressing or hairstyle.
The 70s marked a revival of the 'walking, talking, living doll' and the factory employed 1,000 workers as well as 250 working from home, creating 8 000 to 10 000 dolls per day and 11,000 skins.
Considered the flagship of French industry, in its field, Bella accounted for 35% of world doll export.
In 1984, the Bella factory closed.
Up to 2,2 million dolls were made every year in the 70s. Today, around 500 different models of Bella dolls can be seen in the museum, set up not far from the original factory, including the first papier mâché doll, made between 1946 and 1952, along with those made of Celluloid from 1953 onwards, later to be replaced by PVC.
Musée Bella,
6 avenue du Languedoc
Perpignan,
Wed – Sat
Tel. 04 68 34 50 66.