In praise of Le Racou beach
by Simon Newman, 2014
So there I was quietly sipping my coffee when I casually looked around for today's Independent, usually to be found somewhere on or around the bar.
To be honest I wasn't that fussed but the moment I enquired, Patrick, the ever-charming patron of the Fanal Hotel bar in 2014, responded immediately with "Un moment M'sieur." Before I could stop him he was outside, jumping on to his moto and whizzing off then returning a couple of minutes later with a folded journal, a theatrical flourish and a genial "Voila!"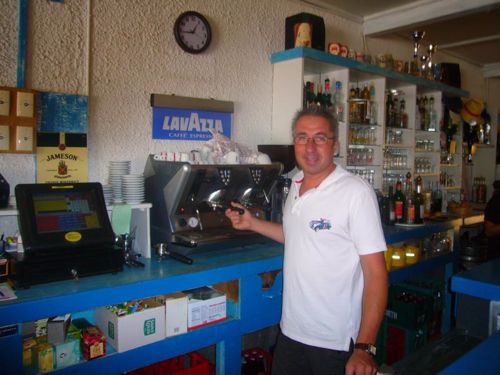 Welcome to Le Racou beach. Granted it's unlikely such attentive service prevails in all its establishments, but somehow you get the feeling that it just might.
Le Racou is a delightful throwback, a time-warp of how family beach resorts used to be or maybe as we'd like to remember them) in more innocent times. And even though it's on the Med rather than a windswept 1950's Norfolk promenade there's still something slightly Blyton'esque about the place.
You wouldn't be surprised to see Mother and Father unloading stripy, canvas deck-chairs from the boot of their Morris Oxford (in the amazingly still free car park) with Julian, Dick, Anne and Georgina excitedly clutching their cossies wrapped up in towels like Swiss rolls while Timothy, the patch-eyed mongrel, "He's such a scamp!" wags his tail furiously in gleeful anticipation.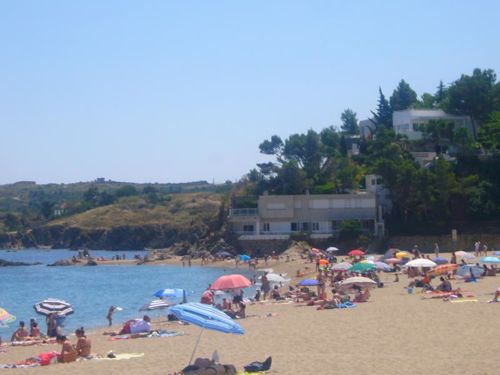 There's a beach shop that sells saucy postcards, buckets and spades, water pistols and Donald Duck swim rings. Most of the bars and cafés give the impression they've been hand-painted by the art student offspring of their bohemian proprietors.
There's a tiny boulangerie full of local treats like golden-brown, buttery sablés; half cake, half biscuit, twice as tasty. And those funky Segways might be at the altogether more brash Argeles North beach but at Le Racou you can still rent a four-seater "social-cycle" of the kind I first encountered at a Butlins as a child.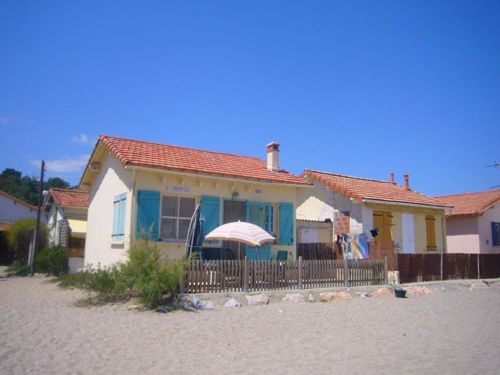 Now, if there is one thing that perfectly characterises the Le Racou landscape, it's the beach houses. Originally makeshift Spanish exiles' huts, some have been smartly done up, gentrified even, but many have crude extensions bolted on giving them an almost shanty-town look. And I swear some have just grown on their own, organically. Others are in that comfortably reassuring state of genteel dilapidation – wind, salt and sun doing their darnedest, but still hanging in there.
Most of them have little gardens where sagging pergolas groan under the weight of wildly overgrown wisteria and vine, some making their way inside through cracked windows. A charcoal-blackened barbie sits in the corner propping up a rusty old bike and a riot of geraniums burst out of old olive-oil tins.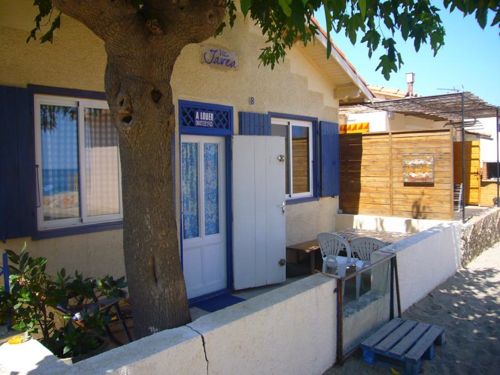 To holiday in one of these cosy little beach-side houses as a kid must have been, and I hope still is, an enchanted experience. One that could come to define a whole childhood. Imagine waking up in the morning to the sound of gently breaking surf knowing that another day packed full of fun beckons, and that it's just yards away. Another day crammed full of splashing, dunking, batting, catching, kicking, digging, burrowing, burying, squealing and larking with brothers, sisters and the new best friend you made yesterday.
That's how it was. Wasn't it? Sounds and smells, finding shells. Scoring goals and spotting shoals. Making saves and jumping waves. See my lips Mum, red with lolly. I gave two licks, to my friend Molly. Look, there, tiny fish! Quick, now, make a wish. A dropped ice-cream, a snoozy dream.
A summer without end at Le Racou beach.