LE FNAC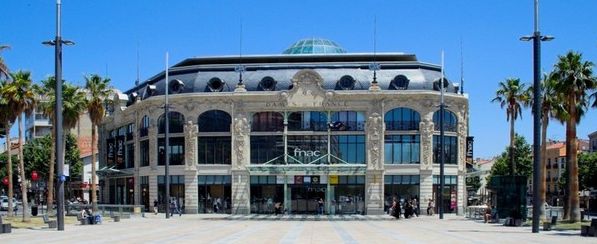 In 1898 the Gompel brothers founded the 'Paris-France' company to direct their growing chain of department stores 'Aux Dames de France'. The chain was a great success in several large towns in France.
Here in Perpignan, the ancient walls of the city had just been demolished, leaving space for new building, and the brothers built a magnificent new store out of metal and glass, stylishly modern for the period. It opened its doors in 1910 and was an instant success.
By 1989, the premises were run down, the shop closed and boarded up. Emblematic building in Perpignan, various projects were proposed over the next few years, to restore it to its former glory, but none came to fruition.
In 1998, an Australian company bought the building to convert into a cinema, but the Font family, owners of the Castillet cinema, managed to stop the project going ahead.
In 2000, the commune of Perpignan bought the building, and rented it out to La FNAC, who undertook 18 months of renovation before opening on the place de Catalogne in 2002. The "Dames de France" was open once again for business.
An eye catching building as you enter Perpignan, the FNAC (Fédération Nationale d'Achats des Cadres) is an international chain selling electronic products, books, CDs….
FNAC buys your unwanted electrical goods
They will buy back unwanted electrical items such as televisions, laptops, cameras, game consoles and games etc from loyalty card customers, even if they have NOT been bought at a FNAC, in return for vouchers to spend in the shop.
You can get an estimate of the 'buy back' price on line here.