WITH KATJA WILLEMSEN
(Read Shepherd's Prayer, Katja's fast- paced adventure set in Collioure.
Available on Amazon)
---
SERRABONE PRIORY
Prayer and working the land went hand-in-hand for the Augustine monks living at the Serrabone Priory in the 11th century.
They carved terraces into steep slopes, built long ribbons of dry stone walls and planted fruit orchards, vineyards and olive groves. Closer to the kitchen, the garden overflowed with herbs and medicinal plants.
The Prieuré de Serrabone isn't far from civilisation, a mere 16 kms from Ille-sur-Têt, but within minutes of leaving Bouleternère, you're in the untamed wilderness of the Aspres.
The mountains close in and the landscape turns from a tranquil valley to a schist-rugged gorge. The road is narrow but not terrifyingly so. It twists and turns alongside the Le Boulès river then whiplashes right and left as it climbs up to the monastery. (See below for detailed directions.)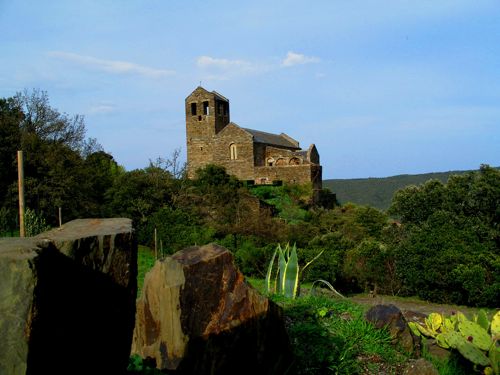 Most guide books advise combining a visit to the priory with something else. Yes, the building is small and your visit will take less than half an hour, but don't plan anything else. Pack a picnic and stay on to explore the botanical delights of the priory grounds.
The priory is as masculine and stark on the outside, as it is feminine and beguiling on the inside. The interior's sensuous curves and shades of rose and earth will seduce you. The mélange of marble and schist, religion and pagan, man and beast will surprise you.
Records show signs of life as early as 1069 AD but within a few centuries, the monks had left, the stones crumbled, contents were looted, and the vineyards and orchards withered. The only flock seeking shelter would have been four-legged ones and their shepherds.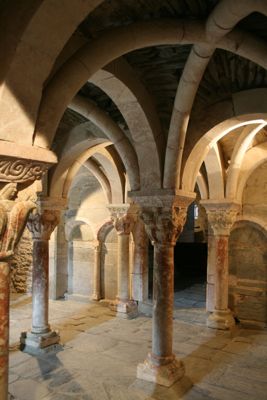 Restoration of the building was completed after WWII but work on the grounds continues with two full-time gardeners nursing it back to the agricultural larder it once was. A variety of olive trees, vines and fruit trees have been planted over the past fifteen years. A labour of love in a harsh climate where water is scarce.
What better time to visit than Spring? From purple irises to fruit trees in full bloom, your senses will be tantalised.
Small trails curl everywhere. One slopes down to an expansive field, another leads into a fruit orchard full of almond, cherry, apple and peach trees. A path passes through scrubland of Spanish broom, juniper, wild lavender and thyme before entering a forest of oaks and pines. Yet another climbs gently to a shaded area perfect for a barbecue.
Find the path down to the steep south-facing bank below the priory and walk through the vineyard. The tender new leaves will be as green as Granny Smith apples. Stroll through the olive grove and try to count how many olive varieties are planted there. Back at the priory, perfect box hedges create zen symmetry around a herb garden filled with everything a cook or an ancient healer might need.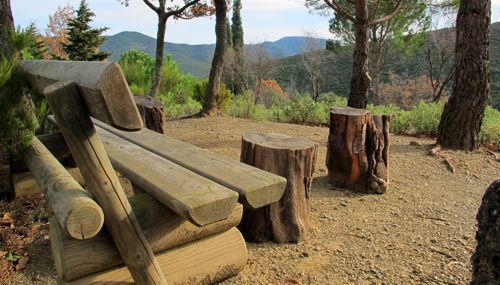 It is picnic heaven at the Prieuré de Serrabone. There are benches in the sun, in the shade, under trees, next to the fountain, tucked away near the forest, or with endless views over the valley. Whether you're à deux and looking for romance, or en famille with granny, grandpa and a dozen kids and dogs in tow, there's a perfect spot just waiting for your wine glass.
Monastery, priory, abbey:  what's the difference?
☛ Monastery is a generic term, priory and abbey are specific.
☛    A monastery is the building/ buildings where nuns or monks live and worship. It can vary in size and accommodate a whole community or just a single hermit.
☛   An abbey is a monastery with at least 12 monks and/ or nuns.
☛   A priory is a smaller monastery, subordinate to an abbey, and often found in far-flung places.
 About the Priory of Serrabone
☛   "Serra bona" means "good mountain" in Catalan. A perfect name given its setting in the rugged Aspres mountains, just 16 kms outside Ille-sur-Têt.
☛   Famous for its 12th century pink marble tribune, a masterpiece of Romanesque art.
☛    The surrounding grounds are a delight to explore, with fruit trees, olive trees, vineyards, and other Mediterranean plants.
☛    Picnickers are welcomed, and there are special areas to set up a barbecue.
How To Get There
☛   Follow N116 from Perpignan, direction Prades. At roundabout after Ille-sur-Têt, take 3rd exit, D16, to Bouleternère/ Prieuré de Serrabone. From there the route is well sign-posted.
☛    A few minutes later, turn left into D618 and follow signs through village of Bouleternère.
☛    After Bouleternère, enjoy a spectacular 20 minute drive through the gorge until the turn-off to the Prieuré de Serrabone on your right.
☛    Another ten minute drive will take you straight to the Priory car park.
☛    Open every day from 10 am to 6 pm