The pound continued to trend higher yesterday, with GBP/EUR making particularly strong gains in the wake of the European Central Bank's latest rate decision.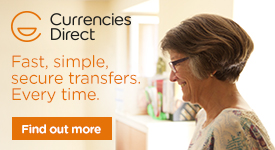 Sterling appears to be relinquishing some ground this morning however, with GBP/EUR sliding to €1.1553, GBP/USD subdued at $1.3090 and GBP/CAD sliding to C$1.7431, while GBP/AUD and GBP/NZD drop to AU$1.8428 and NZ$1.9314 respectively.
The pound may look to recoup some ground today however, if UK retail activity is shown to have rebounded in January as forecast.
What's been happening?
After tearing higher throughout the first half of the week, the pound appeared to run out of momentum yesterday morning as markets awaited further Brexit developments.
This eventually saw Sterling surge towards the end of the session, following reports that the Democratic Unionist Party (DUP) would be prepared to back Theresa May's Brexit 'Plan B'.
The GBP/EUR exchange rate also found support yesterday when the European Central Bank concluded its first policy meeting of 2019, leaving rates on hold and acknowledging that downside risks to the Eurozone have grown.
This followed the release of some disappointing Eurozone PMI figures earlier in the session, which revealed the bloc's private sector was close to stagnation in January, placing further pressure on the euro.
Meanwhile, the GBP/USD exchange rate fell back yesterday as the appeal of the US dollar was bolstered by the euro's weakness as well as a sharp drop in US unemployment claimants.
What's coming up?
Looking ahead, barring any further developments in Brexit, movement in the pound may be driven by the latest UK mortgage and retail figures.
This may result in Sterling making some modest gains if mortgage approvals remained robust in December and CBI's distributive trades index rebounded in January as forecast.
Meanwhile, the euro may come under addition pressure on Friday with the release of Germany's latest business sentiment figures, as analysts predict recent growth concerns will have dragged on confidence.
Finally, in light of the ongoing US government shutdown, there is very limited US data for USD investors to work with today, likely resulting in any movement in the US dollar being driven by broader market sentiment.
We're here to talk currency whenever you need us, so GET IN TOUCH if you want to know more about the latest news or how it could impact your currency transfers.