Reviewed by Jackie Edwards
Jackie Edwards reports on restaurant El Taller, ambitious new Bistrot de Pays in Taurinya

If you're visiting the Abbey of St Michel de Cuxa near Prades, why not continue just a kilometre or so up the valley to Taurinya, where an ambitious Bistrot de Pays, El Taller, offers excellent food in a stunning setting.
Opened in November 2008, El Taller is a brand new construction built entirely of steel (to reflect Taurinya's mining history) and glass. With some striking steel sculptures both inside and out, it provides an arresting new focal point in this otherwise traditional mountain village.
Its enthusiastic young management team is welcoming and they speak excellent English. The atmosphere is informal, the cuisine inventive and everything is beautifully presented with meticulous attention to detail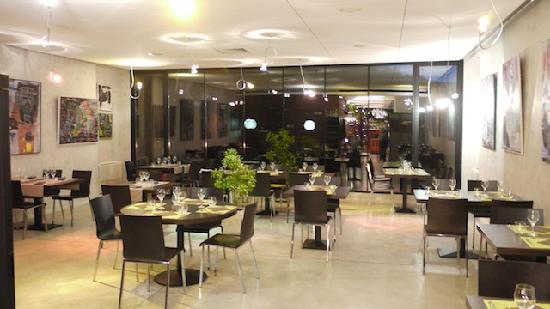 The menu is (reassuringly) not extensive, though there is a good range of choices which change regularly.
Everything is freshly prepared, and always features both local and seasonal produce. There is a set menu (€26.50 in the evening; at lunchtime the set menu prices start at €14 for 2 courses, €17.50 for 3; there is also a €26.50 menu at lunchtime) as well as a small à la carte selection.
We live in the village so visit as often as we can, though there was little on last night's menu that had featured in previous visits.
On this chilly autumn evening, my starter of a pastilla (feuille de brique pastry) stuffed with lardons, pumpkin & mushrooms, served with brie toast and a side salad, was particularly delicious.
My companions respectively chose a vegetable Charlotte topped with local goat's cheese, and a salad of potato, anchovies, pistou & tapenade, all homemade. In each of our choices, we commented on how well the ingredients complimented each other, whilst retaining distinctive individual flavours.
The presentation, on slate platters, was elegant.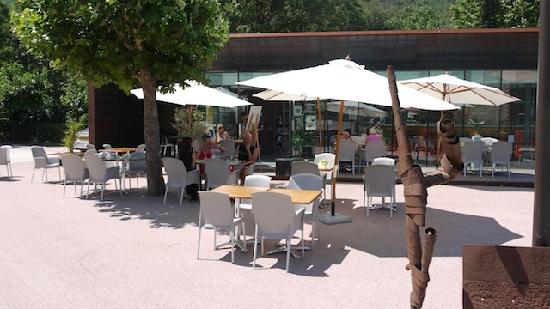 For our main courses, we all opted for hearty meat dishes.
Slow cooked joue de boeuf with carrots, ginger & coriander, flavoursome pork fillet stuffed with mushrooms in a rich wine & mushroom sauce and deliciously tender rabbit stuffed with herbs in a rosemary sauce.
Each dish was accompanied by an imaginative selection of fresh seasonal vegetables, cooked to perfection.
Two fish options were available [red mullet or monkfish] and we have enjoyed these equally in the past. Sylvain, the chef, is also happy to cater specially for those with specific dietary requirements or smaller appetites than we had on this chilly night!
You might think, after such a blowout, that only the truly greedy would have ordered a pudding. That may be so, but the choices on offer were, I'm afraid, irresistible, and we succumbed to temptation.
Again, all were home made and heavenly: a chocolate fondant pudding, a tarte tatin and a sumptuous chocolate crème enhanced with dried fruits and crunchy nuts.
The wine list is well chosen, local wines are predominant and, mostly, modestly priced [ranging from €15-€48].
The house wines are good, and we often stick to a carafe of their excellent Caramany at a reasonable €8.
Tonight we tried the vin primeur, a Cotes d'Agly at €12 a bottle, which proved to be a good choice.
Finishing with their excellent coffee, the meal tonight for 3 people cost us €106, which we thought was good value for such an enjoyable experience where virtually everything is home made, seasonal and locally sourced. We will undoubtedly be back again soon!
EL TALLER
Place de Verdaguer
Taurinya, 66500
Tel: 04 68 05 63 35
El Taller is a 'Bistrot de Pays'. The Bistrot de Pays network was the brainwave of Bernard Reynal in 1993 and aims to rejuvenate small communities and counteract "la désertification". There are a few rules for those wishing to join. They can only be established in villages of less than 2000 inhabitants and must promote local produce and local tourism; organise events – theatre, art exhibitions, sport etc; substitute for the disappearance of other commerce in the village; and stay open all year round. Though not widely spread across the country, there is a significant number in the P.O.
ORIGINS OF BISTRO
The word 'bistro' apparently comes from the Russian word 'Hurry' and originated during the Napoleonic Wars when Russian solders occupying Paris would enter cafés and restaurants and shout 'bistro, bistro' demanding that their food arrive quickly. The word was adopted as a nickname and came to signify any small eatery where meals were simply and quickly prepared.