La Table de Cuisine, St André

Restaurant reviewer, John Frazer-Robinson, visits this outstanding little restaurant in the village of St André in the Albères, near Argelès

I believe the art of a great chef is not just to cook well but also to be inventive with the mixture of flavours and textures in their dishes.
In a Michelin starred establishment that's an expectation. La Table de Cuisine, charming little restaurant in St André, is a much more modest establishment but in my opinion it equals these high standards for its combination of price and quality.
The only downside is that in the summer it doesn't have anywhere to sit outside.
My latest visit was in December. A party of four, our starters consisted of two Foie Gras, one wild mushrooms between a puff pastry top and bottom and a pumpkin soup. All declared excellent!!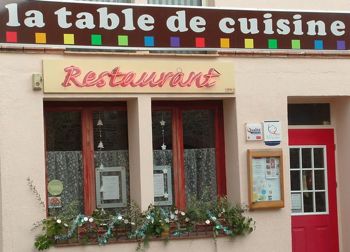 Up came the mains – three of us opting for the wild boar and one for the fish choice. The three sanglier were both generous and gorgeous. A rich sauce accompanied it and, with chestnuts included, it was an absolute delight. Served on a mound of mashed potatoes with vegetables, two of which none of us could positively identify but all of which went superbly with the meat and its sauce. Jane's fish had a risotto on the side which was absolutely stunning and unlike any risotto any of us had ever tried before.
Surprisingly we all managed a dessert. These were really creatively prepared. Mine was the least exciting, a hardish cheese with almost a marmalade-style chutney and walnuts, whilst the others enjoyed a sumptuous range of gateaux, chocolate creations and Robbie's even included a cup of coffee on his plate!
This resto is small, all the food is prepared to order, and favours local producers and suppliers. Their wine list is carefully selected – mostly local – and biased towards the bio and natural wines.
There is a good value lunchtime 'menu' at 14€ and evening 'menus' start at 20€. All food is cooked and served by amiable owners Martine and Laurent Bronzzetti, so you may have to be a little patient……. but it will be well worth the wait.
In view of the size I'd recommend a reservation phone call. But be assured this is one not to miss!