REVIEWED BY JOHN FAIRCLOUGH
*Originally reviewed in 2008. Standard still excellent in 2012. Prices have not changed enormously!
When someone recently suggested trying "le Patio Catalan" (4 Pl de General de Gaulle, Thuir),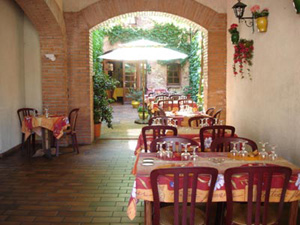 I groaned inwardly, expecting the obligatory red/gold décor, donkeys and USAP posters.
It was therefore with great relief that, when I sauntered in one rather rainy Friday evening, none of the above was in evidence.
Instead, a shady tiled and seated patio, no doubt lovely in less inclement weather, and an elegant comfortable and roomy interior finished in terracotta, dark wood and pieces by local artists. Very Catalan, but not OTT.
The same applies to the food. David Vincent, owner and chef, told me he wishes to provide meals with a hint of Catalonia about them, but without the over-heavy element that can be such a part of this region's cuisine.
There is a lunchtime formule at *10€ which looks stunning value. Evening menus range from *19 to 34€, all of which change seasonally. Our party were divided between the *19 and 25€ deals. The cheaper one featured piping hot "gratinéed" mussels with almonds or anchovy salad to start, with a melt in mouth sirloin steak or Catalan black pudding to follow.
The *25€ offering meant quail salad as an example of a starter, with very "ducky" mains (confit or magret). Desserts were delicious, and homemade, with not a crème catalane, or flan in sight. All seemed home made, and as with the rest of the meal much use was made of fresh seasonal ingredients.
Mention should be made of another option at the "Patio", notably their "assiette" meals. With these, starter salad, main course and cheese are all served on a very large plate all together, ploughman style, and are designed for those either in a hurry, or with a smaller appetite. A Périgord or Catalan version of these are currently available.
The house wine comes from Terrasous, as do many of the bottled vintages. I found prices very reaso- nable, with *10€ for a litre pichet, and a wide selection of local reds, rosés and whites to be had for *14€.
*Opening hours are a little unusual. Open all day over the weekend (including Sun nights) but closed all day Wed and Thurs. Plenty of nearby parking, and bookings (04 68 53 57 28) are advised, particularly at busy times or if a patio table is desired. Some English is spoken.
If you like good, imaginative Catalan food, but in a subtle form, "Le Patio Catalan" would be just for you.
*The original review took place in 2008 – 2009. We have visited this restaurant several times since, the last time towards the end of 2011,and it continues to be excellent and imaginative fare, beautifully presented, at reasonable prices, though prices have of course gone up a little.