Restaurant Review Winter 2014
With Kate and Mates
I am no gourmet 'foodie' but I know what I like. Fresh, tasty food, good and friendly service, clean cutlery, crockery and loos, and prices that don't send me into shock compared to the quality of the meal. The following reviews are not adverts, they are just restaurants that I have enjoyed, or that friends have recommended. Bon appétit.
LA TRAMONTANE, Port Vendres…..with Kate and Papa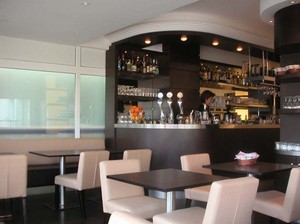 On the port next to the Tourist Office in Port Vendres, not-so-distant sails flapping in a light breeze, lunch out in late September with my elderly Papa was a delight. The proof? He found nothing whatsoever to complain about! The service was excellent: friendly, interested but not intrusive, and the prices very affordable. The quality and quantity were well above my expectations, particularly for my moules frites, after several disappointing moule experiences this summer in the P-O. After humming and hawing over a wide choice of fresh fish, meat and salads, Papa went for the hot and cold goat's cheese salad at 11 euros, chosen from the hors d'oeuvre menu but as big and varied as any main course salad I have seen. My 'moule-frites' were perfect. Once again taken from the hors d'oeuvre menu, the friendly waitress informed us they were the size of a main course – and she was right. Served with chips that were piping hot and home made, the sauce was so good that I gorged myself on bread to soak it up long after I was pogged. House wine was a couple of euros for a good sized glass of fruity Côtes Catalanes rouge. This review doesn't do this restaurant justice as, never big eaters at lunchtime, we were frugal, but the fresh fish and seafood looked superb, and the home desserts on the next table nearly pushed us to the brink. Just one disappointment which came after the writing of this review – a grumpy owner who was rude and unhelpful on the phone when I later rang to check if they closed over the winter period – so you'll have to find that one out for yourselves!
2, Quai Forgas,
Port Vendres
04 68 82 01 51
LA BAHIA, Arles sur Tech …..with Polly
A little jewel in Arles sur Tech, this restaurant/bar/mini-golf venue has been taken over by Guy Travé and his wife Rapha. The popular mini-golf course remains but the reputation of Le Bahia is now growing in leaps and bounds thanks to its delicious, freshly cooked food, the warmth of the welcome and the view from the terrace looking down on Arles, across to the Canigou range and right along the valley towards Prats de Mollo! The traditional menu changes regularly, and although not extensive, the choices are creative, varied and well planned and everything on your plate is locally sourced and produced, and freshly cooked to order. Expect to pay around €30 for three courses, €24 for the two-course Formule, or around €14 to €18 for one of the four choices of 'mains', which will include a fish dish, mouth-wateringly tender beef or lamb or even an authentic steak tartare, all served with imaginative and tasty fresh vegetables. Guy will also provide a delicious and good value vegetarian option, but remember to mention this when you book. Clearly sign-posted from the bridge on the main road into Arles from Amélie. Closed Tuesdays, and throughout January.
Le Bahia, Route de la Baillie,
Arles-sur-Tech.
0468 878701.
Le Chat Qui Rit, Reynes
At first glance, this clean and roomy restaurant, run by 'toque blanche' chef Hervé Montoya, appeared to lack atmosphere decor-wise, but it certainly didn't lack flavour or thought once the food started to arrive.
Complimentary 'amuses bouches' of little tuna 'cakes' and cherry tomatoes in toffee, just like mini toffee apples, were a fun beginning to the meal. My starter of chestnut and pumpkin soup was absolutely delicious, and my friends' pan fried charcuterie on a bed of shredded vegetables and mussel salad with turmeric and sardine fish cake were also given the thumbs up.
A main course of pork cheeks with lentils may sound simple, but was juicy and bursting with flavour. Our other mains were organic chicken breast with caramelised chestnuts and shallots and a thick fillet of beautifully cooked red snapper.
Home made desserts, amongst which moist citrus cake with chocolate mousse and ice cream on a bed of quince, (and the option of home made Byrrh, Muscat or rousquille ice cream) brought the meal to a very satisfactory end.
The house wine from Domaine Piquemal is always a safe bet.
Lunch time menu of 16€ (2 courses) or 18€ (3 courses) on weekdays and 28€ for 3 courses eves and weekends. A 'Menu degustation' at 44€ wasn't very well described on a rather confusing menu in general, but our young English waiter, Cameron, also an apprentice chef at the restaurant, was a cutie.
Closed first week in December, Christmas week and a further week in January to be confirmed.
1 La Cabanasse,
Reynes
04 68 87 02 22
Les Abeilles, St Jean Pla de Corts
One of those rare village restaurants that is rarely empty, Les Abeilles have got it just right. It's not posh or gourmet, it doesn't pretend to be nouvelle cuisine or art deco, it couldn't be classed as fine dining…..but it's pleasant, straightforward, well cooked fresh food at a price that is easy on the pocket ! At 13€90 for 3 courses at lunchtime you cannot help but be impressed with the value for money and the consistently good standard that is maintained day in day out. Evenings and weekends the price goes up to 21€50 for 3/4 courses and there is always a good choice of red meat, white meat or fish – plus a vegetarian option.
There is a good local wine list, and the service in this popular, family run. restaurant is friendly and efficient.
1 Rue du Boulodrome,
Saint Jean Pla de Corts
04 68 83 0333