2014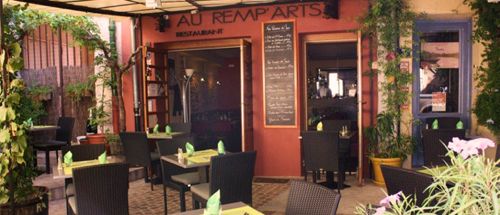 Elne is often overlooked by visitors to the area but it was once the capital of Roussillon and has an interesting history, including the cathedral and cloisters, the Terrus Museum and the Maternité Suisse. Lovers of good food will enjoy Au Remp'Arts, a little gem, tucked away in Elne old town.
We wandered through a deserted Elne on a wintery Wednesday – myself and my 9 and 10 year old giggly companions – fully expecting to find an empty restaurant. Au contraire, this characterful place was packed, but a smiling face ushered us behind the bar to a second, intimate dining room, packed with quirky bibelots. The gigglers, aka my daughter and her best friend, loved it.
Christian Lubin, a native of the Auvergne, has been at the helm of Au Remp'Arts for the last two years, managing it with partner Eric Bordes. He offered us a welcome that, sadly, I experience all too seldom in this part of the world.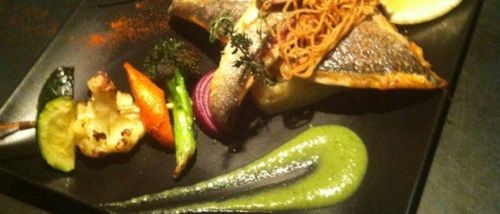 The Catalan chef, Julien, produces what Christian described as "homemade Mediterranean" food based around fresh, seasonal produce. The set menu choices at 15 euros for 3 courses or 11 euros for two met everyone's approval.
I started with a clean, fresh herring and prawn salad. A salad is a salad and there's not too much that can go wrong but herring makes a welcome change from the usual salad options and the vinaigrette was good and generous. Thumbs up for the starter!
I followed fish with more fish – rare for me – and was not disappointed by the big lump of flaky cod atop a potato gratin with a smattering of vegetables. Fish and potato is not a revolutionary combination but the chef elevated this from the norm with an Indian- spiced crumble topping and a hint of spicy brava sauce (usually paired with potatoes à la patatas bravas). These provided a great accompaniment to the fish without overpowering it.
My fellow young diners opted for the joues de boeuf which I presented to them as beef stew as we all know that little girls can be fussy. They were so excited to be part of reviewing the restaurant and so busy trying not to let on that we were there for that reason that they weren't really paying attention! Or so I thought. Halfway through one pointed out to the other what they were eating but by then they were tucking in with gusto and weren't bothered. It was a good hearty meal of beef simply accompanied by potatoes, carrots and broccoli. Cheeks can be tough but these weren't, and in spite of the very big adult-sized portions, there was little left over.
Full marks to the chef for the homemade desserts of banoffee pie, chocolate mousse and tiramisu, served in glasses. There were healthier options but pudding is all about indulgence for me! The ten year old's verdict was "They were just too nice". They were indeed.
A really enjoyable meal.
The restaurant is open for lunch and dinner every day in summer but closes on Mondays and Tuesdays in winter. The evening menu costs 26 euros and Saturday lunch is 19 euros, ordering à
la carte is, as you would expect, more pricey. While the choice is pretty standard for the region, the chef gives each dish a little touch of originality.