EUROPEAN CUP
GLOUCESTER 27- USAP 22
With Mike Thomas, Sorède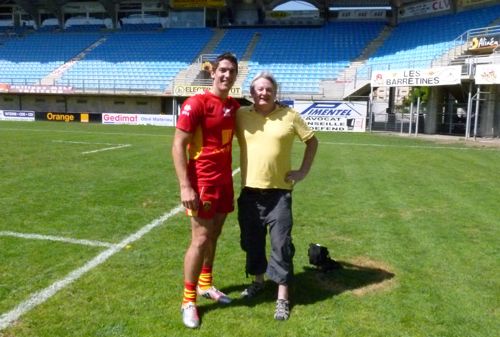 Despite a magnificent 22 points from USAP Captain and man of the match James Hook, the Perfidious Albion once again defeated the Catalans. This was the eleventh European Cup defeat in 11 attempts the other side of La Manche. Come on boys shape up!
WOW what a match. USAP had a ''real go'' against mighty Gloucester in front of a partisan West Country crowd. For much of the match they were in the lead and looked like they would '' break their duck.'' But then indiscipline, leading to a series of penalties, including a red card for the excitable Mafi and that was the end of that. The only consolation was a one point defensive bonus for losing by less than 7 points.
Ex-Gloucester men Ali Strokosch (Scotland) and Luke Narraway (England) were to the fore, although proud Catalan Perez made a significant difference when he came on for the tiring Narraway in the 68th minute. It was good to see the massive Luke Charteris back after a very serious injury and he will make a major difference once he is fully fit again. Georgian prop Jgenti solidified the USAP scrum after he came on as a replacement.Their continue to be some very good signs.
Hook was described as impeccable in the Telegraph on Sunday morning. He was sound in defence, bringing off a match winning tackle and always looked to counter-attack from deep. In addition, he had a ''full house'' of scores – a try, converted from the touchline, four penalties and a neatly taken drop goal. You cannot do any better than that.
In fairness to Gloucester they hung on in there and English international Twelvetrees nailed his chances with the boot. Cowan and May scored tries. The return fixture at Perpignan is a mouth-watering prospect.
The penalty count against USAP was heavily against them and in In the Rugby Bar at Sorede their was much talk of bias from the referee. Impossible, I said, he's Welsh.
Next Sunday, at 13.45 Edinburgh are the visitors in the next round at Perpignan. They have already beaten the mighty Munster. Get down to the Aime' Giral this will be a cracker.
On the Sunday in Sorede the local Sorede Alberes Rugby Club suffered their first home defeat of thde season. They lost to a powerful Corneilla La Riviere side by 25 poits to 6.