HOOK SUPERB AT FIFTEEN
USAP 14 – CLERMONT AUVERGNE 14
with Mike Thomas, Sorede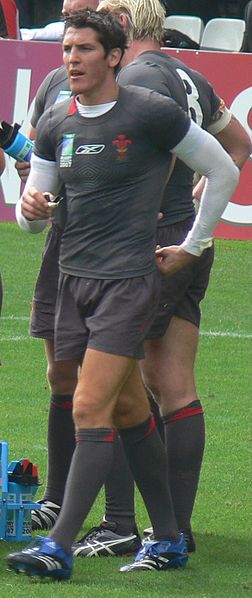 I concur entirely with L'Independant Samedi 3 Aout that "l'arriere Hook était excellent et très efficace au pied". Playing at full back, he had the time and space to display his enormous range of skills and constantly ran from the back to be a thorn in the side of one of the best teams in France.
This performance again brought up the old question – What is his best position – 10, 12, 13 or 15? It also makes you wonder what this talented young man has done to be recently omitted by the Welsh selectors. C'est incroyable.
In addition to his attacking qualities, Hook was rock solid under the high ball, kicked well and brought off a crunching try saving tackle against the massive Polynesian Siviatu.
Despite the fact that this was not the highest scoring preseason friendly, both sides played some good rugby and the outcome was in doubt right to the death. Converted tries for USAP by Michel and Taofifenua were negated by tries by Nakaitataci and Nalaga. "Match a Nul" as they say. For Clermont, French International Morgan Parra probed to good effect from scrum half and the silky skills of the Kiwi centre Regan King were evident in the second half. For the non-initiated, rugby is not just about big men trying to smash each other to smithereens. Rugby is poetry. It is great to see a man of slight stature drifting through a big pack of forwards with elegance and panache.
There were other good signs for USAP. Local boy Bertrand Guiry is a very talented flanker who is intelligent, has good hands and an extremely good ''engine''. His future prospects at International level must be good. New recruit at scrum half, South African Dewaldt Duvenage was very impressive on his debut. He is alert, quick thinking and passes well on both sides. A similar type of player to Harry Ellis and Dwayne Peel. Piukala ran decisively in the centre and R Taofifenua was a handful in the second row.
For me, the big surprise of the evening was a young man called Tommy Allen who came on at 'out half' late in the game. WHO IS THIS MAN? He played a superb cameo part and really looked the business. Could this be Tomasso Allen, a Scotland under 20 player last year and son of former Scottish and South African hooker, John Allen? I will let you know when I find out.
To quote the Independent again –''un match de preparation solide et encourageant''.