LET'S GET PHYSICAL!
Hands up if the thought of exercise brings you out in a rash, and the most calories you have burnt recently came from lifting that ice cold bottle of beer to parched lips! OK. Put your hands down! Let's see if we can persuade you that it's time to get physical!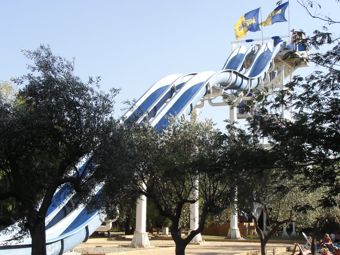 Aqualand in Leucate is great for families with younger children but if you're looking for thrills, Aqualand in Saint Cyprien has a scary ride just for you. Whooooooooo!
Described as 'Les premières montagnes russes aquatiques', the 'Space Navigator' has 150 metres of slides – the biggest in Europe!
www.aqualand.fr
Or if you've already overdosed on water this week, why not hire a quad bike at AccroQuads near Ille Sur Têt, where their circuits are on 3 hectares of private land, so even without a driving license, you can really open up that throttle? And if you do have a licence, you can just go wild and head for the hills.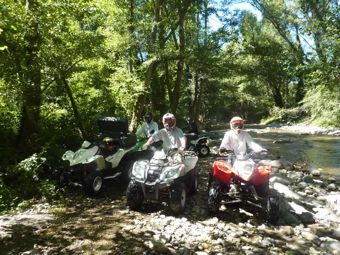 Or combine the quad biking with 'wine tasting', trip to a local olive oil mill or snail farm in a leisurely led quadbike execursion, one or two up.
No burning round a field at lose-your-lunch pace over unfeasibly large bumps – quad biking for grown ups
www.accroquad.com
You don't have to don a loin cloth and beat your chest to swing through the trees at MontOzArbres but you'll probably have more fun that Tarzan ever did at this outdoor adventure park when you try the 'Space jump',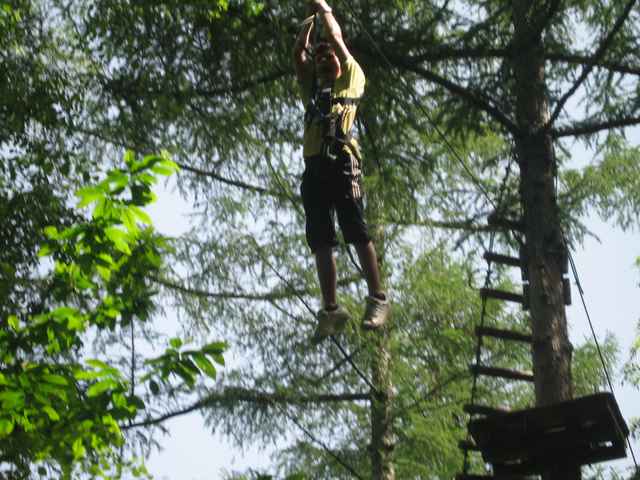 a 400m long tyrolienne starting 45m from the ground, and taking you down to the bottom of the valley at speeds of up to 60KMH. Rock climbing, tree to tree acrobatics, a night in a hammock….
www.montozarbres.com
Or if you want to do the whole Tarzan thing over and around a lake, and still be close to the beach to catch a few waves, Les Aventuriers in Saint Jean Pla de Corts is absolutely worth a whole range of daring and not so daring activities for the family.
www.lesaventuriers66.com
KapOuPasKap propose climbing wall, paintball, 'jumper' (boing boing on springs!) off road scooters and golf Frizby, whether you are Kapable or Pas Kapable (get it?)
Tucked away below the picturesque village of Eus, just outside Prades 'Kapoupaskap', (a play on words, which is a bit of a french equivalent of "I dare you…") introduced Devil Mountain and Disc Golf last year – both unique to the PO.
Devil Mountain is a fun alternative to VTT (vélo tout terrain) or off road biking, 'scooters' which are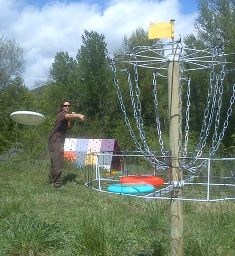 specially designed to go off road, down mountain sides, over bumps and jumps.
Much easier and comfier to handle than VTT bikes but without losing any of the sense of fun or adrenaline.
All excursions are accompanied by a fully qualified english speaking instructor.
Disc Golf is great fun for the whole family and if you prefer to give the adrenaline a miss, this is definitely the sport for you.
Play a 9 'hole' round of 'golf' using a frisbee instead of a club and ball, the aim to 'toss' the frisbee into the specially designed nets. Just like in real golf, every hole has a par. At just 4€ per person, in these current economic climes, this is a great value day out.
The Parc de Loisir' was specifically designed with family budgets in mind and their 1⁄2 day unlimited activity pass starts from just 12€ (rising to 14€ for teens).
This year, kids can burn off their holiday energy and get their adrenaline fix on the Frisbee Golf Course, whizz round the pedal karting track, hone their skills on the climbing wall, swing down the zip wire, try their luck at tightrope walking on the newly installed « Slacklines » or simply bounce up and down to their hearts content on the trampoline.
And afterwards, enjoy a picnic by the river in the dedicated picnic area with your nice, quiet, worn out children! Easy on the wallet AND good for the nerves!
www.kapoupakap.fr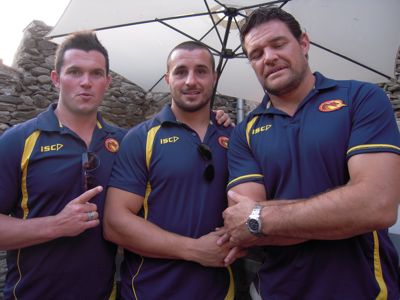 If we still haven't convinced you that it's your duty to shake shake shake your booty, why not let the Catalan Dragons do all the hard work as they charge around Stade Gilbert Brutus in Perpignan, in the British Super League.
A great afternoon's sporting entertainment, without even leaving your seat! Check out their match schedule at www.catalansdragons.com