The Maureillas Tea Room organisers, Colin, Lynn and Jo are very happy to inform you that we have produced the magnificent sum of 1.423,41€ for this year's Telethon. This is slightly less than last year, nevertheless, a figure to be proud of.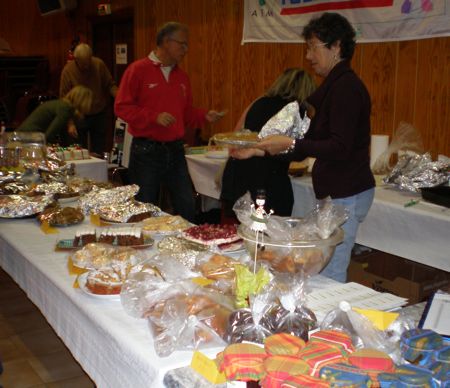 The breakdown is – sale of cakes 1.060,41€; Guess Weight of Cake 125€; Guess Photo Date 118€ and teas 120€. These proceeds have gone towards the village total of 17.041,87€ – which is up on last year. This is no mean feat given Maureillas has a population of only 2,700 inhabitants – brilliant!
We can all be pleased with this achievement which is a reflection of all the hard work which was done.
Thank you to all those who contributed cakes; jams; chutneys; money and of course those who helped on the day to ensure the smooth running of the event.
In particular we want to thank Françoise, Claire and Philippe Mansuy for co-ordinating all the various activities for the village also Carmen Soler; Guy from Nougatine; Jean-Louis from El Tap; members of Musiques a Maureillas and the Choeur de Noel du Vallespir, who created just the right atmosphere for the afternoon, getting us into the Christmas spirit.
For your information, other Musiques a Maureillas Telethon activities raised the following: Gadjololo 562,02€; Marie-Pierre, Anne and Penny 439,60€ and Nathalie Dudart and Anne 451,10€ – an impressive 1.452,72€.
The Telethon Tea Room organisers hope you will join us once again next year and we take this opportunity to wish you a Merry Christmas and all the very best for 2017.
Colin & Lynn Heafield and Jo Brace