Walk the Region with Leigh and Merry Foster
---
PIC DU CANIGOU

Walked 2017. See more up-to-date comments at the bottom of the page from our FACEBOOK GROUP.
This walk is not for the faint-hearted, but has to be on many people's 'bucket list' of things to do while they can. The sense of achievements and the spectacular views from the top on a good day are more than worth the effort. Bear in mind the altitude, and the fact that the weather in the mountains can change quickly, so packing some extra layers is a good idea just in case. Good footwear is essential and walking poles very advisable.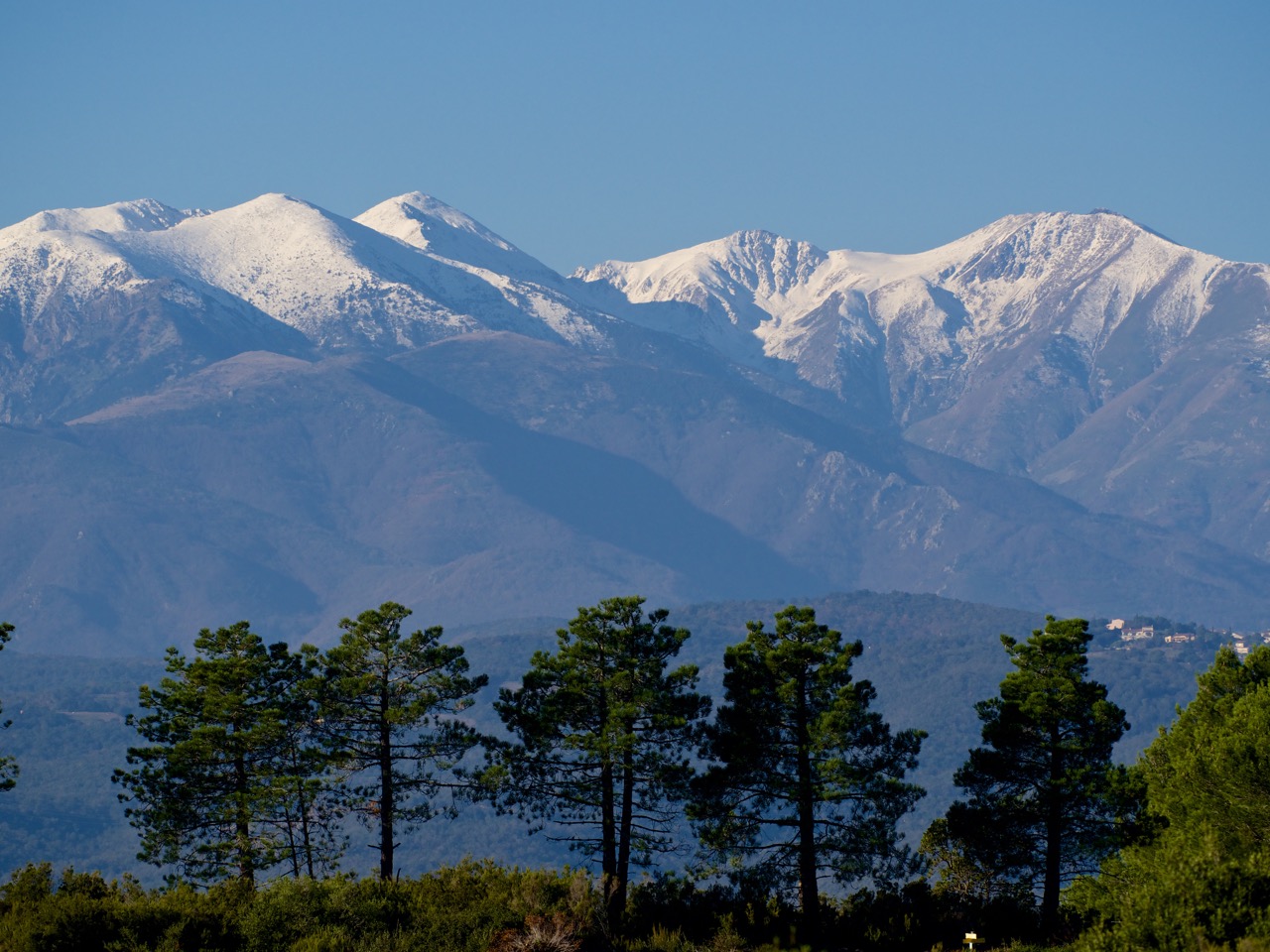 Getting there
We started at 9am in the parking des Pompiers in Prades, which can be found by following the signs to Codalet from the centre.
There we met up with our transport for the first leg of the trip – M. Colas (04 68 05 27 08) and his very old and bumpy 4×4, with room for seven people into which we somehow squeezed eight.
This took us the 30 km (1 hour's drive) up rutted forest tracks and logging roads to Chalet des Cortalets at 2150m altitude, co-ordinates 456067E 4709241N. This is where the walk starts.
If you have a suitable vehicle (or an unsuitable one and a brave driver!) you can drive the track yourself.


The walk
Set in a pretty forest clearing, the Chalet provides basic accommodation and a refreshment stop in dramatically wild surroundings.
After making sure we were well supplied with water we set off. The trail, which at first joins the famous GR10 coast to coast walk, heads southwest past a small lake and climbs the hillside towards Pic Joffre.
The clearly marked path up Canigou splits from the GR10 at 455260E 4709170N. Those like us that don't live in the mountains will find the altitude makes the modest gradient surprisingly hard work.
After reaching the ridge (1.8km from the start), turn south and start the long ascent to the summit.
The path is well marked and well trodden, but still not easy in places where hand-over-hand climbing is required.
As you go there are magnificent views to the west over the Foret Domaniale du Canigou and south towards Spain. While taking a breather we spotted some enormous soaring birds of prey that, thanks to Google, we later identified as Spanish Imperial Eagles.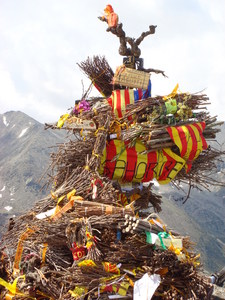 There is quite a steep drop to the west so do take care.
The trail continues south, up and further up, until you come to the foot of the final ascent (3.2km from the start).
Here it zigzags precariously up the loose rubble slope to the top. You are tantalisingly close, but at 2680m altitude it's still about 100 metres straight up, or 400 metres if you don't have a helicopter!
You finally reach the surprisingly small summit at 2784m, 2-3 hrs after starting from the Chalet, to find people perched on little outcrops of rock, taking photos and eating sandwiches.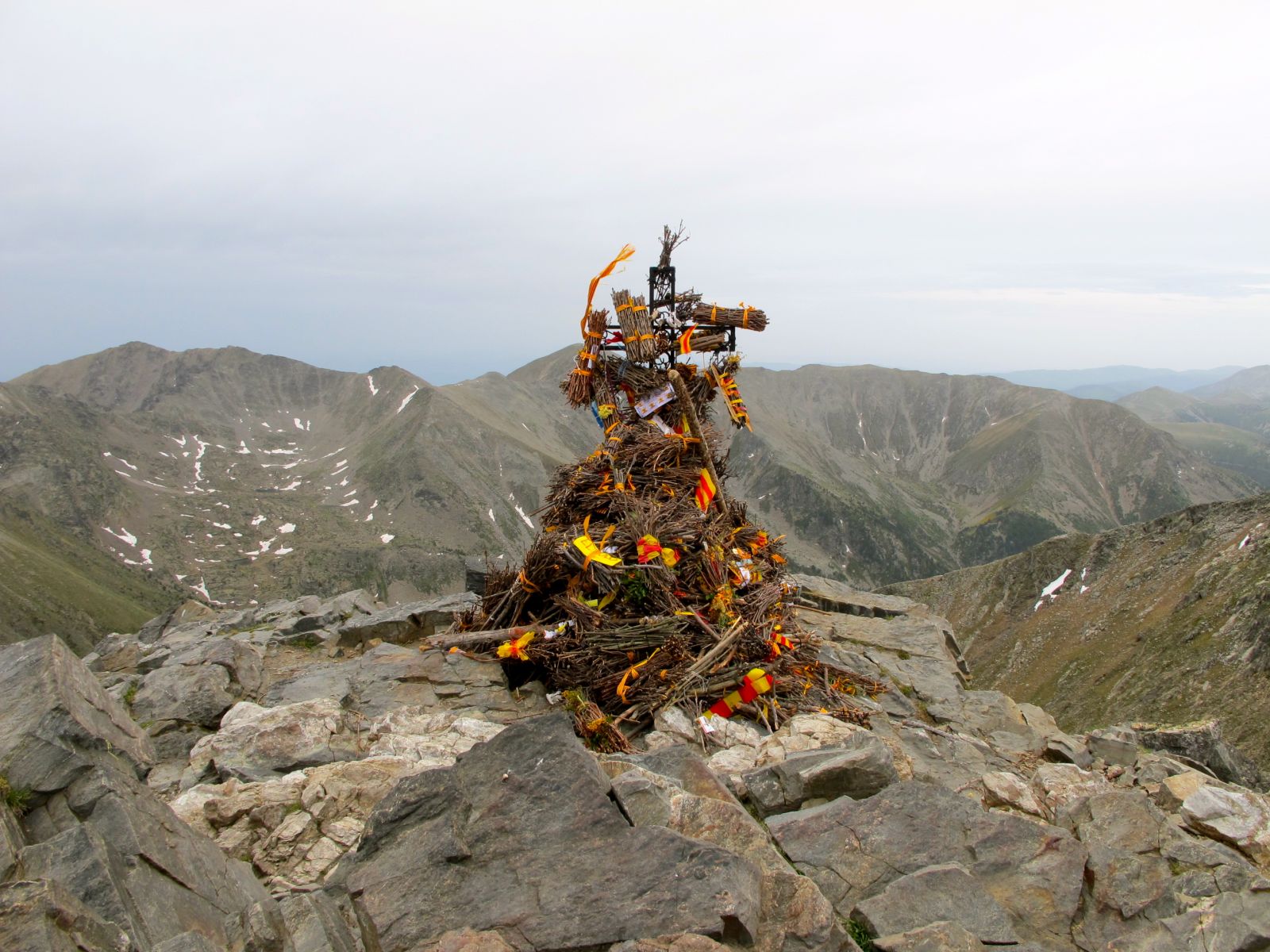 The famous 'Croix' is there, and the Table d'Orientation with its Catalan poetry by Jacint Verdaguer.
You can see the top of the 'Cheminée', which is the alternative route to the top reserved for mountain goats and hard-core climbers.
There was snow in the avalanche-sculpted gulley in mid September, as there probably is for most of the year.
After your picnic and rest, you start back the 4km back to the Chalet. Going down is less challenging than coming up, but still not easy as you have to watch every step.
The walking poles come in handy here. It was with great relief we got back down 2 hours later, to find everyone else waiting to squeeze into the 4×4 back to Prades!
AUGUST 2021
Jenny
I don't believe that the 4×4 are allowed up to the chalet de cortalet anymore.
Caroline
A great way of climbing Canigou is: Day 1: park at Refuge de Bâtère near Arles sur Tech and walk around the Balcons de Canigou to the Cortalets chalet; Day 2: ascent to summit and back to Cortalets for another night; Day 3: retrace your steps back to Batere. It is a beautiful walk and taking it in easy stages means that reasonably fit 67 year olds can make it. Remember to book overnight accommodation at Cortalets in advance. Evening meals served at Cortalets in 2018 were absolutely delicious.
Padraig
Afraid it's a bit tougher now. Jeeps no longer operate as some of the roads they used were washed away in the big storm early last year. If you are fit, there are a few access points where you might do a return climb in a day. It's tough! More comfortable and fun to overnight in Chalet des Cortales. Tourism canigo conflent site has loads of information on starting points. Bonne chance.
Best way I've done is two nights one in Marielles and one in Cortalets. You go over the top by the cheminees. Lovely walk but tough especially on a hot day.
Merry (author)
We wanted to go again and stay overnight at the Chalet des Cortales but as you say, no taxi rides available at the moment. You could try a longer trip walking up to the Chalet one day and then up to the top the next. It's difficult to plan with the weather this year as you would deserve to have the view if you walked all that way. Maybe next year ?
Gary
I do recommend that if you are not sure of your abilities or do not have good enough or correct equipment that you hire a guide. Not only will they keep you safe, show you the way, but be able to teach you mountain hiking skills along the way plus will be a source of info on all the natural environment you pass through.
Oh and on a footnote, if you do hire a guide make sure they are fully qualified and hold the AeM diplômé and Carte professionnelle otherwise they do not have any insurance and are working illegally.
Vicky
I second this! Summitting Canigou with two very experienced guides was an experience I'll never forget, I felt safe and able to enjoy the journey knowing that if bad weather closed in, I slipped and injured myself or I was too tired to continue I had people with me who knew exactly what to do, where the nearest huts are and were carrying all kinds of equipment to help get us out of any tricky situations.
Wayne
Took me 4 attempts from Vernet and I like to think I'm in reasonable good shape, do not underestimate it!