Tried and Tasted 4
Tony Goodman continues his tour of regional wine producers, chatting to the vignerons and recommending wines that have inspired him. Once again, a bit of poetic licence will allow you to enjoy some fun observations from this talented amateur wine taster.

This summer he visits three more fabulous domaines; Le Château de Valmy, Jardin Catalan and le Château de Corneilla del Vercol.
Summer time, and the living is easy. Well, at least it is here in the P-O, drenched in sunshine under Picasso's teal blue skies. Lazy days of golden beaches and soft Mediterranean waters beckon but don't forget that this is also the perfect time to explore the region's vineyards with their fruit-heavy vines, and cool, soothing cellars.
In this edition we bring you two more superb vineyards, and a 'one stop wine shop' at the excellent Jardin Catalan on Saint Cyprien Port. I do hope these reviews give you a few ideas of wines to try and places to visit.
Contact me with comments and queries on Wineclub66@gmail or on Instagram @antonstjohn
---
YOUR VISIT
The 19C chocolate box Château sails above the rich Argelès plain like a majestic fully-rigged four-mastered windjammer. Its vines thrive on a gentle pebbled red earth terroir which runs down towards the Mediterranean sea. Their exceptional wines are crafted to match the demands of their clients. Allow time to stroll through the pine and cork trees in the garden (free entry) or to sit and enjoy the sea view.
Plenty to keep the kids occupied, ample free parking, well signposted. Brand new state of the art visitor centre with a restaurant, terrace café and oyster bar. Every facility you would expect for a world class winery including a warm, friendly welcome.
VIN DOUX NATUREL (VDN)
LE TRÉSOR RIVESALTE AMBRE
Gloriously rich, honeyed fruit without being cloying. Golden soul soothing colour. Cinnamon, hints of peppered cardamom, peach and slight spice island citrus. Ricardo Montalban and Barry White smooth.
At 57€ consider it a long term investment in your personal development and health. Sip it gently with Shenck's – Suite in G minor for the Viola de Gamba in the background.
57€ Room temperature will do just fine
VIN ROUGE
LE PREMIER 2015
Syrah, Mouverde, Grenache Noir
A traditional Grand Vin crafted with devotion from the trinity of regional grapes. A big, bold and powerful roast beef of a wine with Jonny Wilkinson's smooth technique and reliability. Plenty of syrah colour and liquorice, mouverde tannins and grenache noir black pepper. To consume now, however if the budget allows put one or two aside for a few years. A traditional roast or a cheese platter which includes a good strong blue.
18.50€ Decant 30 mins before serving at 18°C
VIN ROSÉ
CHÂTEAU ROSÉ 2017
Syrah, Grenache Noir
A powerful rosé, plenty of syrah spice and berry aromatics. The luxurious pale garnet colour is perfect for a candlelit dinner party. Lesser winemakers might over-serve a wine like this and find themselves leaving the tournament early. Bernard Carbonnell and his team have given it Rafael Nadal's balance and control to hit the sweet spot every time. Its summer, be adventurous with pairings. It can cope. Love it, bravo.
10€ Serve around 12°C
CHEMIN DU CHATEAU VALMY, ARGELÈS-SUR-MER
TEL: 04 68 81 25 70
---
YOUR VISIT
A gourmand's delight, stocked with the best wines and provisions the region offers plus hard to source international treats at supermarket prices. If time is of the essence, Olivier has done the leg work allowing you to stock up on wine from some of the best local vineyards with one stop, and have time left to take the family for a stroll around St Cyprien's fabulous marina.
Well signposted and staffed. Parking at the door. Prices are clearly displayed and comparable to cellar door prices. Bright, open shelved and well laid out with a separate section for fresh local produce.
Three wines out of many which particularly caught my attention…
VIN BLANC
DOMAINE DEPRADE JORDA, ARGELÈS-SUR-MER
Prémices Chardonnay
Fresh and clean, just delightful. Nicely structured with a light touch of oak, it will surely impress, and at 5€ you can tell the neighbours to stock up for when you visit without feeling guilty. It's a perfect summertime BBQ wine. Langoustines and green sauce, moules.
5€ Serve at 10°C – 2°C
VIN ROSÉ
L'IINSTANT ROSÉ 2017
Merlot, Cabernet Sauvignon, Pinot Noir
Lovely colour and summer berries linger. While a lighter wine, the merlot provides plenty of body, the pinot an interesting slightly dry introduction. Rabbit, rich Valencian paella please or chicken grilled with plenty of olive oil and handfuls of garden fresh herbs.
5.95€ Serve at 12°C
VIN ROUGE
CHÂTEAU MONTNER 2017
Syrah, Carignan, Grenache Noir
A lovely well rounded, well constructed wine. Deep garnet red purple, good fruit aroma. Some lovely syrah pepper and soft mellow tannins. It's a safe pick when you want something with good credentials and an easy going personality. Pork grilled with artichokes, slow roasted sweet potato.
Around 7.50€ Could be laid down for 2 years or so. Serve around 16°C
2 RUE HENRI BECQUEREL, SAINT-CYPRIEN
TEL: 04 68 21 36 64
---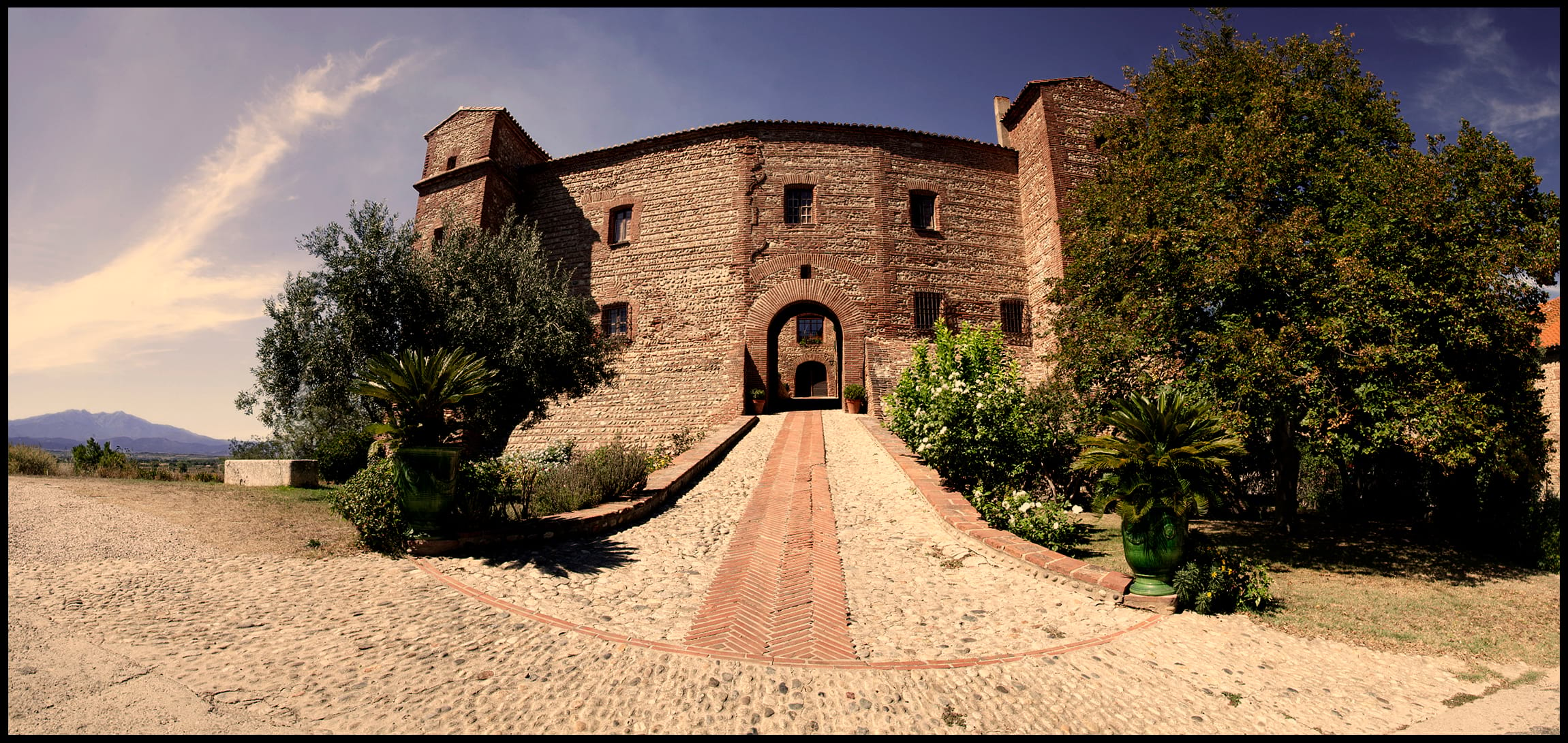 YOUR VISIT
Between Saint Cyprien and Villeneuve de la Raho, the Jonquères d'Oriola family have been making wines for twenty-seven proud generations. Well signposted, easy-to-find location 15 minutes from Perpignan, pop in for a warm welcome.
Plenty of parking. Bright well-appointed and airy tasting room. Max, with his excellent English, steered us through their range of wine.
VIN BLANC
COLLIOURE BLANC 2016
Grenache Gris, Grenache Blanc, Rousanne
Superb white, blended with traditional local grapes, with a sharp elegance. Its abundant honeysuckle and tea aroma shouts out quite loudly "Bouillabaisse" or baked fish with rich cream sauce, or a plump poulet jaune spit roasted with butter and tarragon.
17€ Drinkable now at around 10°C, it has the capacity to develop over the next 3 – 5 years.
VIN ROUGE
LA CANAILLE ROUGE 2015
Mourvède, Grenache Noir, Syrah
A delightful easy-drinking red, a classic example of what you will find as you explore the local wineries. Plenty of red fruit, plenty of colour and generous aromas. The blend of grape types and skill of the winemaker have produced a red that would work equally well with a nice steak or grilled tuna with a crisp fennel, sweet red apple and walnut salad.
19€ Best served at 14°C – 15°C. It will reward you if you can put it aside for 3 to 5 years
3 RUE DU CHÂTEAU, CORNEILLA DEL VERCOL
TEL: 04 68 22 73 22