SUNDAY 7TH APRIL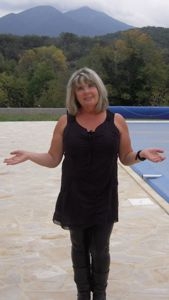 The sun is up, the sky is blue…… there's a tingle in the air that says that our Mediterranean spring is just around the corner, still a little unsure of itself but growing bolder by the day.
The cherry blossom around Maureillas is just beginning to unfold into a cloud of petal white blossoms, the vines, denuded of all greenery over the winter, are slowly sprouting foliage, and Canigo mountain, important symbol of Catalonia, rises proud and snow topped, despite the high temperature on the plain. On a day like this, it really does feel as if the P-O is coming out of hibernation, although the weather forecast doesn't seem in total agreement for the time being, and there is still an undisputable chill in the air if you step out of the sunshine.
It's the kind of day that makes you glad to be alive, to feel the sun on your face, the rustle of the breeze through your hair (although I admit that my hair did look rustled through before I actually came in contact with the breeze!) so I just wanted to leap back into my Life in the P-O and wish everyone, dear friends near and far who already know I love them, cyber acquaintances and Internet friends who are also a large part of my life, a HAPPY, HAPPY SPRINGTIME. Lucky to be me, lucky to know you….. and see you all for a sunny G&T very soon.
Back soon.
FRIDAY 12TH APRIL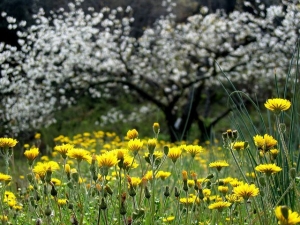 I blinked and the world turned to blossom. I wish I was an artist and could paint for you the beauty of the cherry orchards at this very moment, ethereal, exquisite, and transient, or a clever enough wordsmith to describe the deep yellow of the broom, the careless flick of the remaining dandelions and daisies, the poppy reds, the wild flowers of every hue, the pale and deep greens of the awakening foxtail barley and the bright flitter flutter of the butterflies that have just accompanied me on my long walk around the orchards of Maureillas. The best word I can find to describe the whole scene is……. WOW. The photo above wasn't taken by me today; it was taken by my dear friend Dave Siv, a 'proper' photographer, and says everything about today that I can't.