A9 Motorway expansion project.
UPDATE
Work has started again on this project, after being supended in July for the arrival and departure of summer tourists. Delays are possible both ways.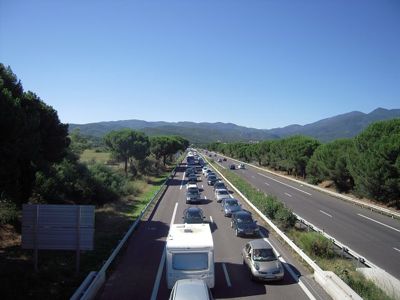 The first phase of work towards the widening of the A9 motorway in the Pyrenees-Orientales will begin in 2012, between exits Perpignan Nord and Sud. The whole project, consisting of adding a futher lane on each side of the motorway, to give 2 X 3 lanes, is expected to be finished by 2020.
The communes of Rivesaltes, Pia, Perpignan, Saint-Esteve and Pollestres will be most affected by this first stage of thel project, estimated to be finished by June 2013.
The second stage will be the 17km between Perpignan sud and Le Boulou, expected to be finished by late 2016, and the final phase of 8 km will be from Le Boulou to Perthus, completed in 2020.
Sounds like a lot of roadworks in store for motorway users!