Style, smile, and stay a while – support village life
There's is nothing that sucks the life out of a lively town or village more than closed shops and boutiques, windows broken or boarded, 'bail à ceder' (lease for sale) or 'à vendre' splashed across the front.
So, who cares? Supermarkets and retail chain stores sell everything we need don't they? They have large car parks, easy access, plenty of blank faced employees, happy to tot up your trolley in surly silence, and save you the painful effort of communication in French. But where is the heart? Where is the soul?
Enter Alma, delightful owner of cosy clothing commerce 'Boutique Alma' in Céret centre, opposite the post office.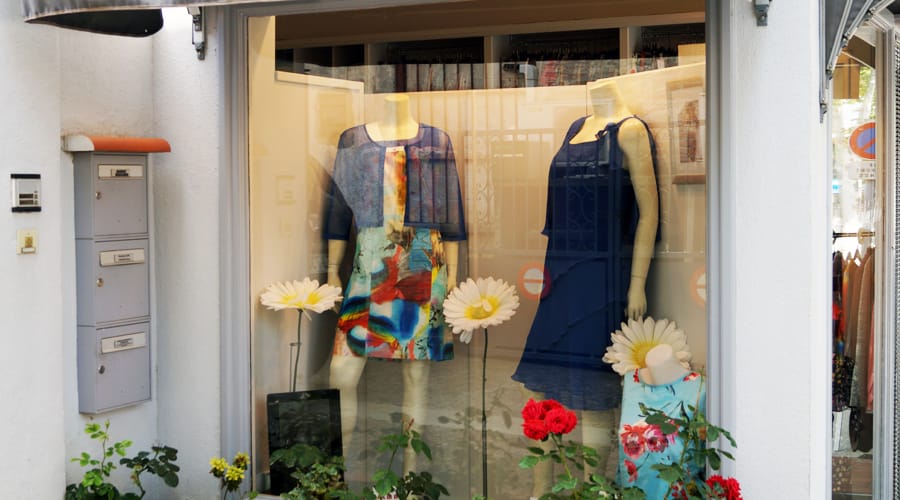 A Céret institution for more than 40 years, she keeps her stock bang up to date with twice yearly visits to Paris fashion shows, accompanied by delightful husband José – ladies fashion from a male point of view…… and an eye for the swimwear parade!
Alma caters for every shape and size from 10 to 28. She might not be able to turn you into Twiggy, but her totally free alteration service means that clothes can be adapted to fit– and she also offers sound fashion advice based on years of experience.
"Il faut rentrer chez moi" she told me. Don't assume that because it's a small boutique, it is dowdy, unfashionable, or over expensive. (OK, it's not cheap either, but thoughtfully and reasonably priced for trendy quality clothing.)
Most important, you will receive a warm welcome from this lovely lady – in French, or even English if it's not too early in the morning!
Open from Tues – Sat 9h – 12h and 14h30 – 19h
Free alteration service