Cork, stone and canvas
By Ellen Turner Hall
Exhibition 2013: Musée d'Art Moderne of Collioure.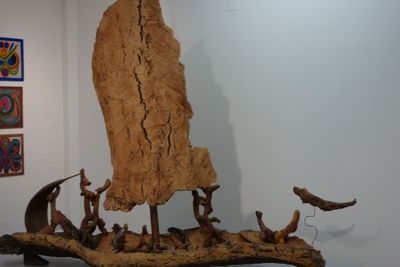 Such are the raw materials of the spring exhibition at the Musée d'Art Moderne of Collioure. The art of three generations of the Pous family of Le Boulou is on display from 16 March to 20 May.
The family's artistic voyage started from modest beginnings – a bottle cork factory in Le Boulou, founded by Jean Pous at the beginning of the 20th century. On his walks along the Tech, Jean collected stones worn smooth by the river. The variety of colours and shapes inspired him to try his hand at sculpture.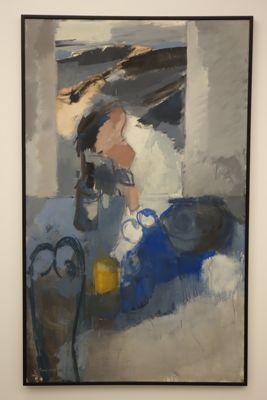 The exhibition includes a 1960 photograph of the artist at work with hammer and chisel. Starting at the age of 87Jean produced a profusion of heads, bodies, flowers and birds in relief and with the primitive energy of cave art. The same motifs inhabit his colourful paintings and drawings on cardboard.
Jean's son Francois Pous also worked all his life at the cork factory, while experimenting in his turn with the sculptural possibilities of cork and stone. His cork pieces are often monumental, rough approximations or abstractions of the real forms: an airplane, a horse, a lateen-sailed ark of odd couples.
His marble sculptures, in contrast, are refined, smoothed and highly polished. Francois' craftsmanship convinces us that a massive piece of marble can lift off its plinth and launch itself into the ether.
Granddaughter of Jean and daughter of Francois, Henrietta Pous-Vaillat is the only one of the trio to have studied art. A graduate of the Beaux Arts of Montpellier, Henriette chose the painted canvas as her means of expression. Many of her paintings are plays on the paradox of interior-exterior, often framed by a window. Her light brushwork lends the interior scenes an aura of softness and warmth. Her flat areas of color are accented by the sensual curve of a wrought-iron chair back or the round solidity of a blue-glazed vase.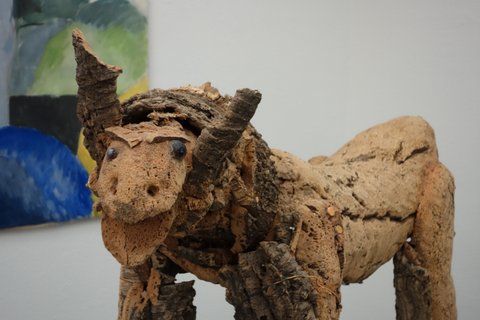 The 2013 exhibition is dedicated to the memory of Jojo Pous (no relation to the artists) who was the president of les Amis du Musée from 1985 until his death in February 2013. He will be remembered by generations of artists and art-lovers as someone who encouraged young talent and created a home for their works at the Templiers Hotel.
The museum is open every day except Tuesday from 10h to 12h and 14h to 18h.