I met Jenny Rhodes for the first time in 2008, in their deliciously cosy cottage in the heart of Les Angles, just a five minute walk from the ski slopes. Rosy, fun and delightfully chatty, she explained to me that she was in the middle of pickling everything that moved. I stood very still…. and asked her whether she would be interested in providing a 'gossip in the mountains' type of column for Anglophone-direct readers. She has never looked back!
Good grief where has July gone? I can't believe it is the last day of the month and I haven't mumbled once.
We have been so busy up here as we have had the Canadian Triathlon Team staying with us and the time has just flown by. It wouldn't be right to say that I am tired after watching these guys go out three times a day to run, swim and cycle. Hour after hour they train without one word of complaint. How they do it I will never know. Hopefully we will see the results of all their efforts next Sunday in London.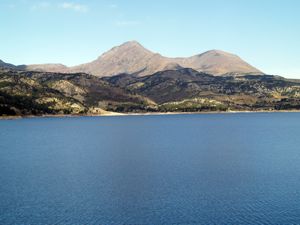 Lac Matemale is buzzing at the moment. The place has loads of families out and about doing the outdoor activities. It has taken a couple of years for the numbers to come back up because of the horrendous storm 2/3 years ago. The forest was decimated when we lost nearly 10,000 trees. The hours of work it has taken to bring it back to it's original beauty have been enormous. Now new shrubs and plants are rising from the undergrowth where the ground had been shaded by the high canopy of the many trees that blew down. So something good has come out of devastation.
It is so good to feel the sunshine on my face [OK with sun factor 150] We were only just saying a couple of days ago that it felt like Autumn, there was that weird feeling and scent of September/October. But now we have summer and it is lovely. I even thought I may hire a bike and try to cycle round the lake. Now you know it's good weather.
Something weird has happened to our church clock. It must be confusing all of our elderly residents as the "bongs" have gone wrong. It now bongs twice at 8am and bongs four times at 9am and then continues throughout the day in a state of flux. It has always gone with a slow "bong" and a "bing" at someone's demise but now we haven't a clue if there has been a misfortune or the bells have gone mad. Bring in the bell tuner I cry.
Holiday seasons always bring out the worst in drivers. I am not saying that anyone in particular is to blame but if I hint that they come from the country just below France you will know who I mean. Yeh, go on, it is the Spanish. What the heck……I can walk on the wild side and say it how it is A couple of days ago I was in the centre of our village and had come to the central junction and indicated left.. Of course there was someone being stupid doing a five point turn so I waited. The car behind me didn't, he shot past me and then turn acutely right across the front of my bonnet almost wiping out the turning car. He was then closely followed by a white van man who thought he could do the same. Chaos abounded with much gesturing and verbal nonsense. Why oh why can't people use their eyes and common sense when on holiday, or at anytime for that matter? Another layer of paint may have been one step closer to the scrap yard for me that day.
Must crack on and go shopping for food for the BBQ I seem to have volunteered to do this evening. Why do I always open my mouth and not think it through before I nobly offer to feed nearly 20 people. Common sense has never been my strongest point.
So til the next time Cheerio
Jen
18th August
I really can't believe that we are half way through August and the "Summer Proper" has just arrived. We seem to have so much low cloud and rain storms that the usual long days of hot summer sun never really came. Now however the sun shines and the weather is wonderful. We have had the late afternoon thunderstorms but they have been no real hassle.
One of the major problems is the dreaded weed. The moisture followed by the heat is just a fantastic catalyst for weeds. They have overtaken my paths and are choking my wild flowers. Yes, that's the same wild flower seeds I threw around so generously three years ago. Every Autumn I have heaved them out hoping the snow and low temperatures will bump them off a little so that I can be more selective next time. But all to no avail, they come up in the spring and go from an inch to three feet in days and take over the place.
In one way they go well with the backdrop of the mountains and a manicured garden just would not seem right.
We have now finished our days of main fetes and festivals and just have the mountain bike competitions which of course I will be steering well away from. The body armour that the mountain bikers wear is amazing. They stagger along the road looking like a cross between an armadillo and a gladiator. The clothing has developed greatly in the past few years and when looking at the routes these young men descend at speed, every penny spent on this equipment is worth while. They don't appear to have any nerves at all.
Monday was a Bank Holiday and I can't find out what it was for. The only thing I did notice that the local village church had a queue. Never have I seen a queue at a church in the UK. There must have been 80 to 100 people waiting to go in. And ours is a large church. I felt rather guilty not joining the throng. (Note from Kate: www.anglophone-direct.com/Friday-15th-August
Mike is walking with a friend up a route on the Carlit today. His friend hadn't done it and asked Mike if he fancied a stroll. Never one to turn down the opportunity for a day in the mountain he was up early and was off like a rat up a drain pipe. So it's a day for me to catch up on some house work as our daughter Becky left yesterday to return home to Guernsey. And I don't like to take over the precious days with her doing housework. The necessary stuff gets down but the serious stuff gets left until she has gone. So I have been a Gran that has watched Jordan slide down the shoots at the water park at Err which he loves and other hair raising activities that are round here. There are so many that he becomes spoilt for choice. But also appears happy just to ride his bike round the village.
Well my washing machines have finished their cycles so I am off to peg out. That's that washing not me.
Til the next time
Enjoy the last of the Summer Days.