A traditional Catalan recipe of meatballs and olives simmered in a rich spicy sauce, often served with haricot beans, this recipe does vary from restaurant to restaurant. Here is one of several variations.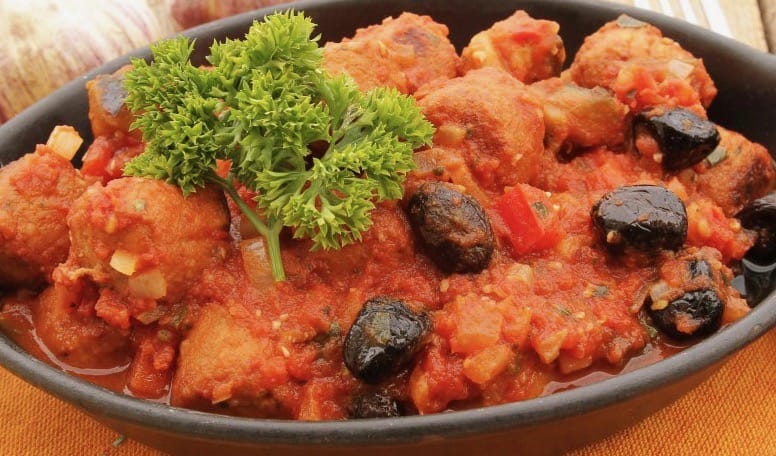 Ingredients (For 8 people)
750 g of pork mince
750 g of beef mince
2 eggs
100 g of flour
3 onions
2 cloves of garlic
1 bunch of fresh coriander
500 g of green olives
300 g of cèpes (or dried cèpes)*
1 kg of carrots
tomato purée, olive oil, salt, pepper
Preparation
Peel the carrots, the onions and the garlic. Clean the 'cèpes' or soak them if they are dry.
Chop one onion finely together with one clove of garlic and the coriander.
Add salt and pepper, and mix this preparation with the minced meat and the eggs.
Form into small meatballs, flour generously and brown in olive oil.
Keep warm.
Brown the sliced carrots in olive oil, add the 2 remaining onions and the thinly sliced garlic as well as the tomato purée and a glass of water.
Simmer for 15 minutes.
Add the meat balls, the *cèpes and the green olives.
Cover with water, add salt and pepper and cook under cover for 45 minutes.
Adjust seasoning to taste and serve with warm white beans or chickpeas tossed with garlic and olive oil on the side.
Bon Profit!
*the cèpes may be replaced by ordinary mushrooms and the water by stock