Brioche is a French classic. If you've got the time, and a bit of patience, why not give it a go?
Gloriously rich and buttery (don't think about the calories!) brioche is a versatile dough which can be used to make plaited loaves, burger buns and French classics such as brioches à tête, parisiennes or the beautifully domed brioche Nanterre.
This is a challenging recipe but if you get it right you will be rewarded for your efforts as it is utterly delicious and so much tastier than pre-packaged supermarket brioche.
Ingredients
For the dough:
250g flour
30g sugar
5g salt
10g fresh yeast (see note below)
3 eggs (beaten)
125g softened butter (cut into 1cm cubes, leave to soften at room temperature)
Sugar crystals (sucre à grains)
To make the dough:
♥ This is easiest done in a mixer with a bread hook although you can always mix and knead by hand. It will take a lot longer though.
♥ Crumble the yeast into the bowl, then add the flour followed by the salt and sugar so that they don't come into contact with the yeast. Add the eggs.
♥ Set your mixer to the lowest setting and leave it for 10 minutes until you have a well mixed dough which doesn't stick to the side of the bowl.
♥ Turn the mixer up to a medium setting and add the butter bit by bit. Mix the dough for a further 10-20 minutes. If it clumps around the dough hook stop the mixer and scrape it off then restart.
♥ The kneading process develops the gluten in the dough. Because of the high fat content this process takes longer in brioche dough than for normal bread dough and timing is not an exact science so you'll have to be patient and keep an eye on it.
♥ When the dough is ready, if you're using a mixer it will make a distinct sound – described by my pâtisserie teachers as 'ploc ploc'. To double check, take a small amount of dough and stretch it out between your fingers. It should stretch into a thin 'veil'. If it doesn't you need to keep kneading. Dough should be kept cool so it if gets too hot, put it in the fridge for a few minutes and then resume kneading.
♥ Put the dough into a bowl, cover with cling film (in contact with the dough) and leave to prove at around 26°C for 45 minutes to an hour until it has doubled in size. The French term for this is pointage.
♥ Knock back the dough by folding and kneading it briefly until it is back to its original size. Return to the bowl, cover with cling and leave it in the fridge for at least 1hr 30 minutes, or overnight.
♥ Divide up your dough and shape depending on the end result you are looking for – see below.
♥ Brush with beaten egg and leave for a second proving at 26°C for around 1 hour 30 to 2 hours.
♥ Brush with beaten egg a second time, sprinkle with sugar crystals (sucre à grain) and – finally! – bake. Temperature and time will depend on shape – see below.
To shape the dough:
♥ This recipe will make:
2 large plaits of three branches each OR
2 brioches Nanterre each with 5 balls of 60g OR
12 brioches à tête or sugar rolls
♥ For the plaits: divide the dough into six equal parts. Roll out into six long sausages of around 30cm and form into two long plaits. Cooking time 12 – 15 minutes at 180°C.
♥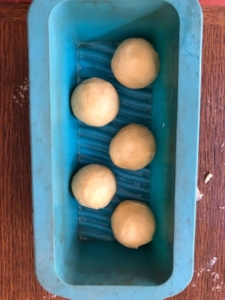 For the Nanterre, divide the dough into 10 equal parts and arrange in loaf tins as per the image on the right and bake for 20 to 25 minutes at 180°C.
♥ For the sugared rolls, divide the dough into 12 equal parts and roll in the palm of your hand on a surface to make a smooth topped ball.
To bake the dough:
♥ Don't forget to brush with egg for a second time and cover with sugar crystals before baking.
♥ For the plaits: Bake for 12 – 15 minutes at 180°C.
♥ For the Nanterre: Bake for 20 to 25 minutes at 180°C.
♥ For the sugared rolls: Bake for 10 – 12 minutes at 180°C.
About fresh yeast: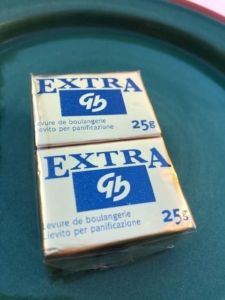 ♥ Fresh yeast is called levure de boulangerie in French.
♥ Larger supermarkets sell it in the pâtisserie section with the refrigerated tarts and cakes.
♥ Alternatively you could ask for some at your local boulangerie.
♥ You want to keep the yeast apart from sugar and salt before you start the kneading process because the sugar will draw the water out of the yeast cells and the salt will halt the fermentation process. Find the science behind the process here.