Carnival Time in the Pyrénées-Orientales
THE ORIGINS OF CARNIVAL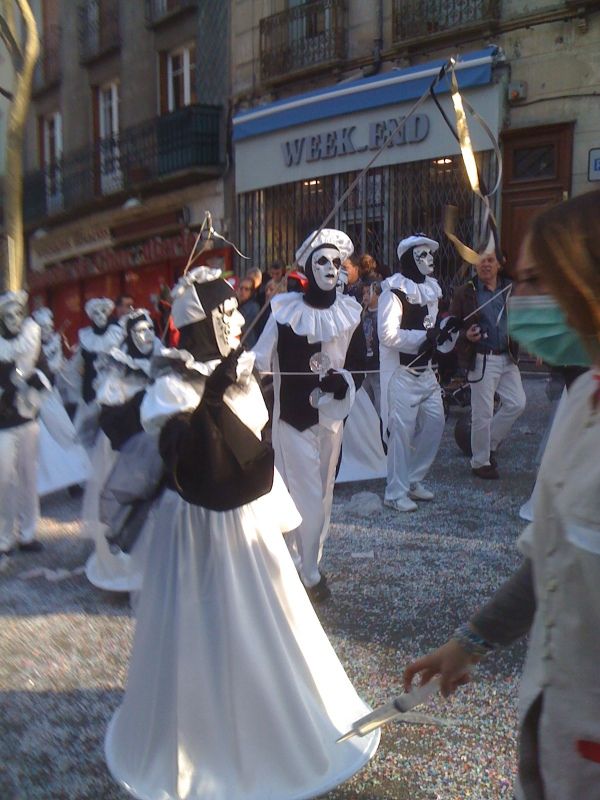 February and March see carnivals all over the P-O – fancy dress, street parades and fireworks, singing, dancing…..along with the symbolic burning of evil spirits.
Carnival actually dates back to the ancient Greek spring festival in honour of Dionysus, the god of wine. It was a massive binge – a celebration of excess, and later the church, unable to suppress it, wisely adapted it instead to its own traditions.
It became a last fling, a chance to eat, drink and be excessively merry before Lent, the 40 day period of fasting, abstinence, and purging of sins.
The word 'carnival' is often interpreted as coming from the Latin 'carne vale', meaning 'farewell to meat' but it is also believed to stem from 'carrus navels' the 'naval car' or ship, which carried the Gods to the winter feasts. The medieval Church reinterpreted this as the Ship of Fools, on which sinners sail to their deaths, and so was born the carnival float.
Other aspects of Carnival are believed to derive from the ancient Roman festival Saturnalia, when social rules of behaviour and class were reversed, masters waited on their slaves, men dressed like women, people wore fancy dress, paraded in the streets, and thus disguised, could be as wicked as they wanted.
Keep an eye out for 'les Grégoires' – dressed in white from head to foot, with faces coated in flour, they carry the carnival king to be burnt on the bonfire.
The straw-filled Carnival king, symbol for infertility, sins, and bad luck – is an important character in the traditions of modern carnival, and is burned in a spectacular ritual at the end of the festivities
CHECK WITH THE TOURIST OFFICES FOR CARNIVALS AROUND THE REGION