Life is what happens while you are busy making other plans
With the house finally finished we turned our attention to what we were actually going to do with it. We had been through many ideas, from running a bunk house for walkers, to high-end yoga holidays. We decided on renting the whole house to holidaymakers and I put an advert online. By the end of January, to my surprise we had a few bookings for the summer season. The plan was that while the house was rented out we would do some walking in the Scottish Highlands. We started spending hours every evening pouring over maps and guidebooks.
Life is what happens while you are busy making other plans. John Lennon was right about that. One morning at the end of January, we had a phone call from Arthur, to say that his wife, Jo, had suffered a stroke and was in hospital in Perpignan. I accompanied Arthur to see her and she looked extremely frail, only half conscious on the hospital bed and, it seemed, she was paralysed down her left side.
That night Jo had a second stroke and the following day was in theatre for 12 hours while the doctors battled to save her life. After two operations, she was put into a coma. We all waited anxiously to see if she would regain consciousness, and if she did, what state she would be in. Arthur sat in our kitchen and cried.
There was now no way that we could contemplate going off for the summer while our friends were in need of help and support. We would have to stay, but our house had already been rented out, so what could we do? We decided to resurrect an old plan: to build a Mongolian yurt in the woodland. Mongolian yurts are a bit like glorified tents, they can be erected or dismantled in only a couple of hours, and with their layer of insulating sheep wool, can keep out the worst of the summer heat.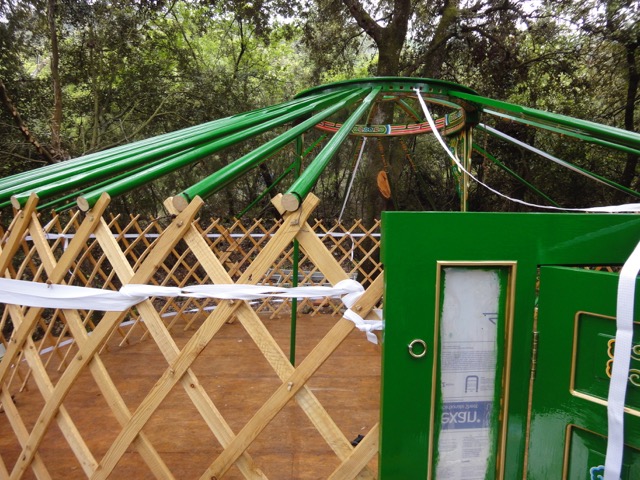 After much searching of the internet a yurt was ordered and hubby began the job of clearing a patch of woodland and building a wooden platform to place the yurt on. While I was away on a yoga course in England, he concreted in all the supporting posts and the platform itself was in place by the time of my return. Then it was my job to apply as many coats of varnish as I could to make it watertight. The land we had chosen was on more of a slope than appeared at first sight, so whereas one side was level with the ground, at the other end was a 2 metre drop. Hubby set to, using an old beam that had been removed from the house to make a staircase.
At the start of April the yurt itself arrived, and, without reading the instructions (hubby doesn't do instructions), we started to put it together.
Apparently you can put a yurt up in two hours, well, it took us all day — and a lot of cursing. Hubby supported the middle of the roof while I ran in circles around him, trying to get about 40 roof supports into position. As some clicked into place, those on the other side fell down. Even worse, it was starting to rain, so we had to hurry to get the final canvas layer on before the wool insulating layer got wet.
Once we had finished we stood back to admire our handiwork. It was a very handsome yurt with lovely paintwork and Mongolian designs on the front door and the interior supports. But as we stood there, we realised the giant bed we had ordered was not going to fit through the little hobbit door.
Finally reading the instructions, we also realised that everything we could have done wrong, we had done wrong. Yurts should be built in the open, not under trees. Yurts should not be on wooden platforms as water will run underneath. And probably a lot of other things were wrong too.
But as soon as we could, we moved into our new home, and were very pleased with it. We loved to hear the morning chorus of birdsong, the sound of the owl as we dropped off to sleep and the barking of the fox as he registered his annoyance at our intrusion onto his territory.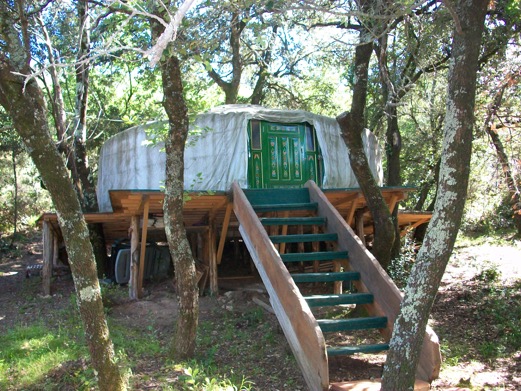 Despite all the work which had to be done before the house was fit to be rented out, we had to spare at least one day per week to drive down to Cerbère to visit Jo at the stroke rehabilitation centre. It was a 90 minute drive from our house and we often drove Arthur, who was himself ill with Parkinsons. Sometimes, though, I would go along when he drove and on one occasion I was convinced I would not make it home. As we arrived at Cerbère he realised he had forgotten his pills and the ride home was interesting to say the least.
But, having moved out into the yurt, the house could be emptied and cleaned. For this, Adele came over to help me paint and by summer time Mas Pallagourdi was gleaming.