Linda Shepherd, founder of Cancer Support France (CSF) in 2002, when she was diagnosed and treated for breast cancer, has died at the age of 64.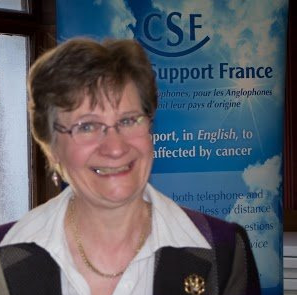 CSF is now a French registered national charitable association which providing support for English speaking people in France who are or been affected by cancer. This may be as a patient, a family member or carer. The charity has helped over 2,000 in the 15 years it has existed, training volunteers to give practical and emotional support adapted to the individual needs of the cancer patients themselves, but also to their carers, families and those closest to them.
In recognition of her tireless work for others, she was invited to a garden party at the Paris British Residence for the Queen's birthday and invited to the Elysée Palace for a State Banquet with Francois Hollande.
CSF national president Penny Parkinson said:
"Linda Shepherd, the founder of CSF in 2002, has died. She retired from active involvement in 2014 and shortly after that her cancer returned and she sadly died peacefully aged 64 on Thursday. She remained a great support to all of us in CSF and her determination and commitment was always an inspiration.
It is Linda's vision and determination which led to the creation and development of CSF. Her tireless support and the example of how she lived her own life with cancer is an inspiration to us all.
Only last November she was able to attend and contribute to our Trainers' Conference in Toulouse.
Her legacy is that the organisation she created is now helping anglophone people touched by cancer across a large part of France."