Robert Hébras Lanois, the last survivor of the horrendous massacre of the village of Oradour, has died at the age of 97. (February 2023). Read his account of that terrible day at the bottom of the page.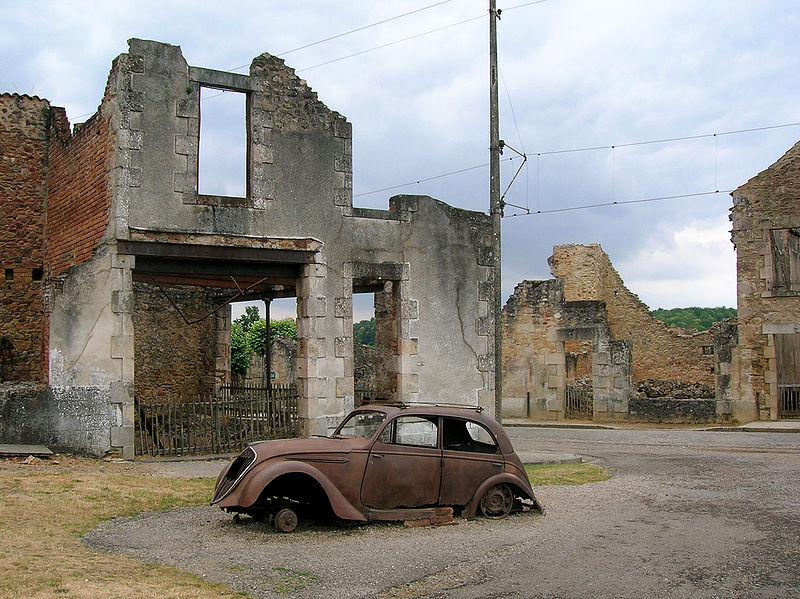 In Patrick Seraudie's film "Une vie avec Oradour", Robert Hébras Lanois, one of only six people to survive the massacre of Oradour, and one of the last two eye witnesses to this terrible tragedy, gives a meticulous account of the day, filmed in the ruins of the village.
On 10th June 1944, four days after the Allied invasion of Normandy, 150 Waffen-SS soldiers entered Oradour-sur-Glane in the Limousin and massacred 642 innocent men, women and children, an unexplained tragedy which has gone down in history as one of the worst war crimes committed by the German army in World War II.
Nineteen-year-old Robert Hebras was one of the few who miraculously escaped from a burning barn by remaining partly covered beneath dead bodies of family and neighbours, and pretending to be dead. His mother and two sisters perished. . Hebras presented his memories of that day, at the screening of the film.
A new village was built nearby after the war, but the untouched ruins of the original remain as a memorial of man's inhumanity to man, as well as a museum with items recovered from the burned-out buildings: watches stopped at the time their owners were burned alive, glasses melted from the intense heat….