Les Chants de Mandrin.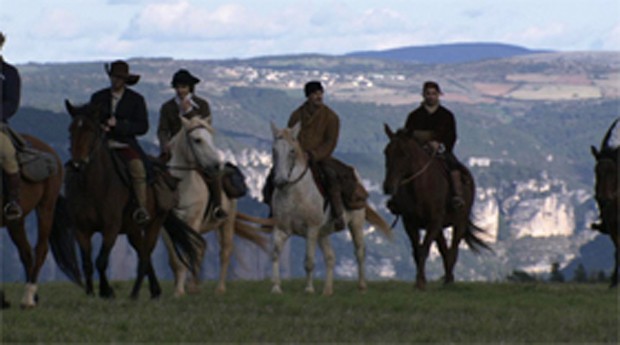 Filmed in the Hérault (Lac du Salagou, Vallée de la Buège, Le Caylar) the Aude, near Narbonne.
Synopsis: After the execution of Louis Mandrin, famous out-law and popular hero of the mid-eighteenth century, his companions begin a new campaign of smuggling in the provinces of France. Protected by their weapons, the smugglers organize rough markets on the outskirts of the villages, where they sell tobacco, fabrics and other contraband. They write songs in honour of Mandrin, print them and distribute them throughout the kingdom …
This film has received financial support from the Languedoc-Roussillon in partnership with the CNC (Centre National Film and Moving Image) and logistical support from Languedoc-Roussillon Cinema (Film Commission / professional sector).
Les Chants de Mandrin was awarded the Prix Jean Vigo in 2011, was selected at the Locarno Festival, and the International Film Festival Montpellier Mediterranean Cinemed.
Rabah Ameur Zaïmeche. 2011.
Duration: 1:37
Sarrazink productions
With Jacques Nolot, Kenji Levan, Christian Milia-Darmezin.