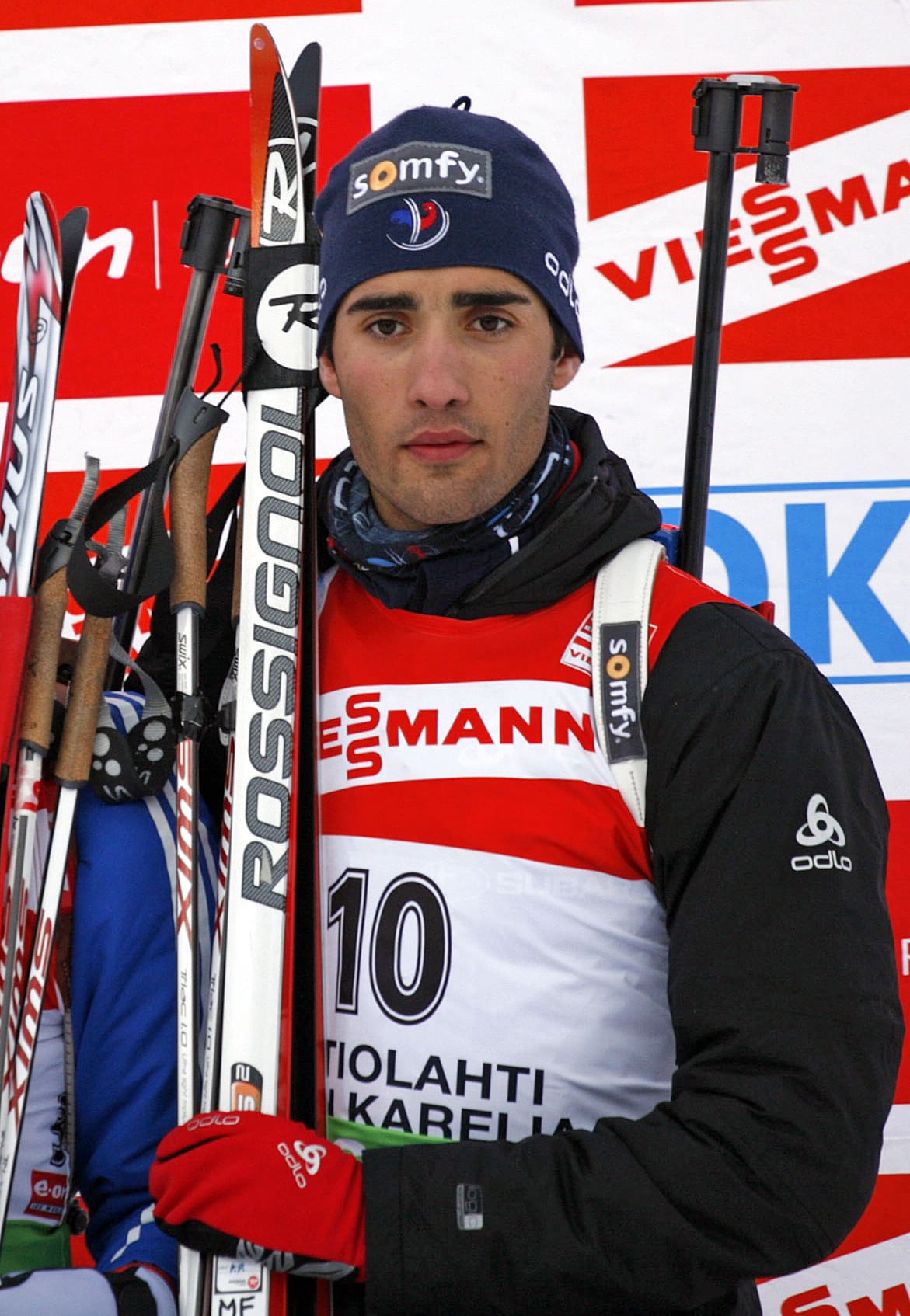 Font Romeu – A Modern Resort with an Ancient History
Céret-born Martin Fourcade, a 26-year-old non-commissioned officer of the mountain infantry brigade at Chamonix, emerged from the 2014 Sochi Olympic Winter Games as the new star of biathlon, with three medals – two gold and one silver.
In 2018, he went on to win gold in the men's 12.5km pursuit at the Alpensia Biathlon Centre in PyeongChang, South Korea.
With a centre of excellence for biathlon located in Font Romeu, the second-oldest ski town in France, after Mont-Revard in the Alpes, it is hardly surprising that many top French biathletes are P-O natives.
The development of Font Romeu as a ski resort and tourist destination started more than 100 years ago and took place in three phases.
Le Petit Train Jaune
First, the Yellow Train, named after the colour of its rolling stock and the Catalan flag, built to connect the mountain towns with the plains.
It is the highest railway track in France, with the highest SNCF station and stunning views along the way. Building the line was no easy task however, requiring 65 bridges and viaducts, more than one for every kilometre of its 62.56 km length.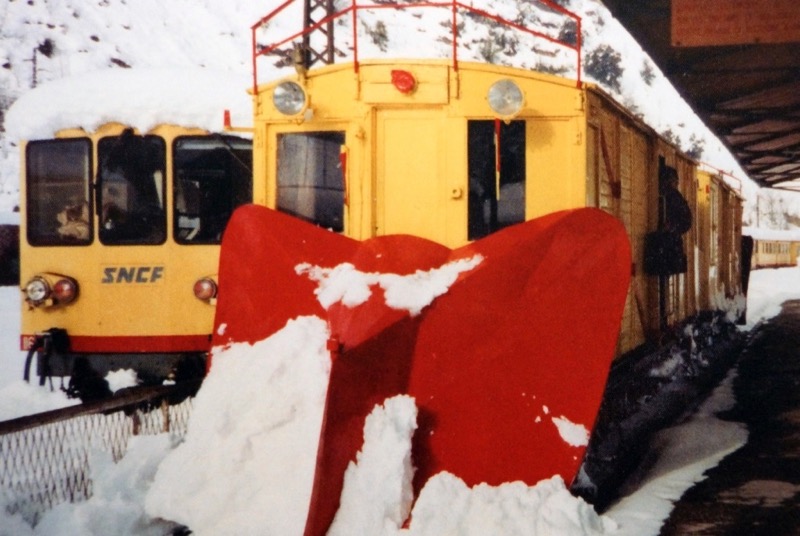 As roads improved, motor vehicles took over much of its original traffic, but the Train Jaune remains a commuter line as well as a popular tourist attraction. When winter snows close roads, Le Petit Train Jaune stays open, its snowploughs resolutely clearing the track ahead.
Le Grand Hôtel
Next came accommodation. At 1,312 to 2,213 metres above sea level, Font Romeu enjoys 300 days of sunshine a year, so it clearly had potential as a resort. In 1911, La Societé des Chemins de Fer et Hôtels de Montagne built Le Grand Hôtel overlooking the town.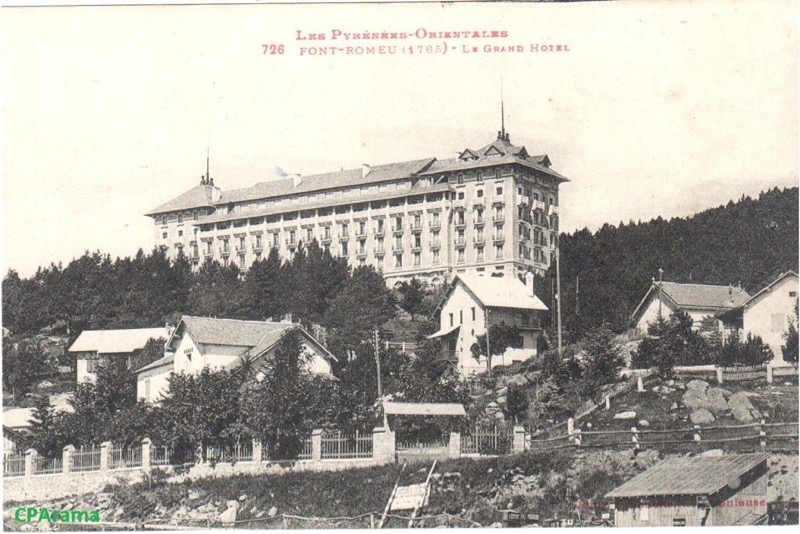 And grand it was indeed when opened on 28th July 1913, with 200 rooms, apartments, elevators, electric lighting, an American bar, a casino, a garage and a shuttle bus service to the railway station. It soon became THE place to be seen in high society on both sides of the nearby Spanish border, and welcomed the Spanish royal family and famed painters Pablo Picasso and Salvador Dali amongst its many guests.
The Ski Resort
The third phase began in the winter of 1920 when the Hotel offered its first winter program and Font Romeu became a 'station de ski'.
Today Font Romeu is a busy ski town, twinned with the neighbouring Pyrénées 2000 to offer 60 pistes served by 25 lifts, and 110 kilometres of cross-country ski trails as well as paragliding, boarding, snow shoe walking, husky sledge riding and quad VTTs. It also attracts Olympic teams and great athletes for its biathlon facilities at its Centre National d'Entraînement en Altitude (CNEA) ("National centre for sports training at altitude").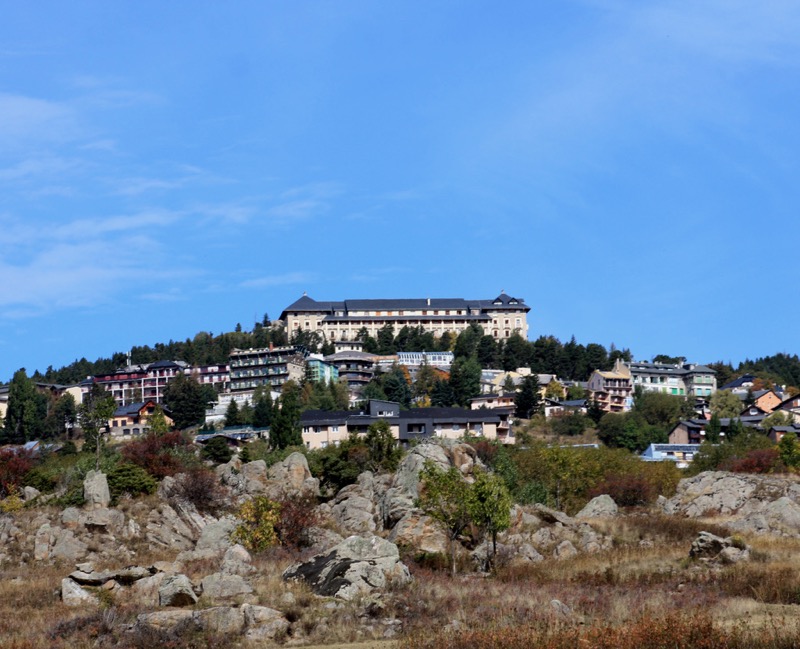 The Grand Hotel still towers above the town, after being closed down in 1975 and split up into apartments.
But Font Romeu isn't just about the snow. In this modern and lively winter resort – with its casino/cinema/disco and plenty of hotels, bars, and restaurants – there is also plenty of opportunity for relaxation at the natural hot baths at nearby Llo, Dorres or St Thomas. Alternatively, there are numerous superb, marked hiking trails through fantastic countryside that is worth exploring at any time of the year.