Food for Thought from Suzanne Dunaway
P-O Life reader, Suzanne Dunaway, has cooked since she was 5 years old, when she made cinnamon pinwheels from her mother's pastry dough.
She LOVES to cook. Some might say she LIVES to cook. The smells, the tastes, the textures…
She is a firm believer in simplicity and creates her recipes in the ethos of 'anyone can cook'.
After years of experience in her own kitchen, cooking schools and private classes all over the world, in this weekly blog, Suzanne shares with us her PO-inspired creations.
With many strings to her bow, she is also an artist and columnist, with two published cookbooks.
All content and recipes are copyright of Suzanne Dunaway.
All about artichokes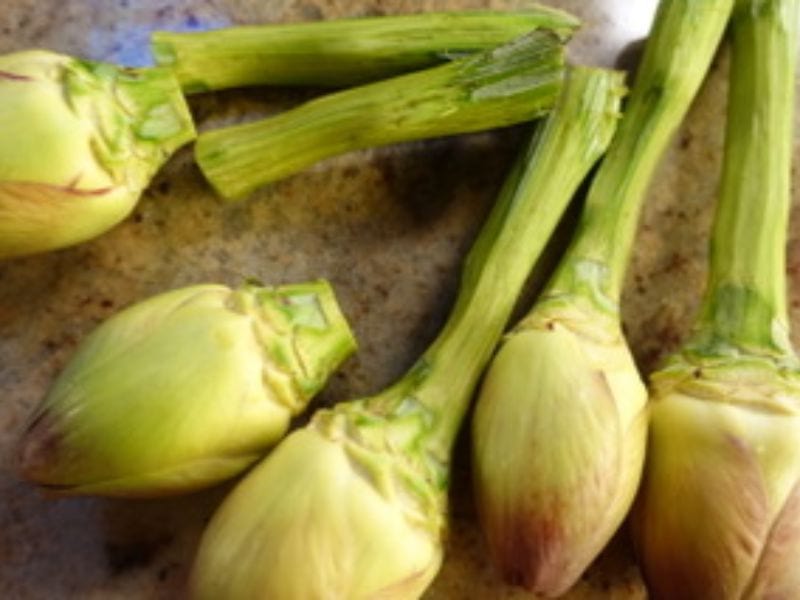 Now here's the thing: artichauts, my favorite vegetable, are right up there with a perfect tomate ancienne jaune or white truffles shaved over fettucine. How fortunate we are to welcome spring in the Pyrenees with lovely little purple artichokes, tender as butter when fresh and so good for the body and soul, not to mention the meaty globe artichokes that follow.
The famous artichauts á la barigoule are a French favorite, but I feel that simple recipes are preferable, the nutty artichoke flavor not too hindered by other ingredients. My artichoke recipes are more à la romane but of course you may use cleaned and pared chokes in any recipe you choose.
Artichokes, originally discovered in Greco-Roman times by donkeys in a field of "thistles", eventually found their way to the ruling classes and were a favourite of Catherine di Medici. She once ate so many at one sitting that her guests felt she might literally explode at the table. As a novice artichoke consumer, Catherine was unaware that these strange, leaved delicacies were a great source of roughage and that too many could sometimes have…er…reine-percussions.
The one thing you need to know about preparing artichokes for any recipe is that refrigerated artichokes will make preparation much easier than those at room temp. Refrigeration, usually a no-no for fresh vegetables, will allow you to easily snap off the outer tough leaves of a baby or globe choke, leaving the pale yellow, tender interiors in the small chokes and simply cleaning up the larger globes to look snazzy on the table.
I happen to know a few donkeys who LOVE those outer leaves, so they are not wasted. On most chokes, the first outer leaves offer very little 'heart' to scrape off with your teeth, so off to the donks or perhaps to one of our local animal farm they go!
I'm ruthless when paring baby artichokes. I take off the outer leaves down to the yellowy/pale green centers (do this before paring the tops and make it easier to get a grip on the leaves), then cut off the tops about an inch down. Stems may be left on if you are steaming the baby or midsized ones, and stems are easily peeled with a carrot peeler. You do not need to remove the choke on fresh baby artichokes,
Artichokes with little spikes on their leaves are usually moving toward the end of the season and will have more choke to remove. They will be harder to prepare even though the hearts are salvageable, so try to buy fresh ones.
The small artichauts violettes are my favourites, but the large globes are meaty and wonderful when stuffed with bread crumbs, anchovy and fresh mint, then steamed in olive oil, very little water, white wine and garlic. They will cook more quickly if quartered. Serve with lemon butter, olive oil and garlic or aioli.
A word on the stems: If fresh, they will be tender, and you may use the carrot peeler trick to take off the tough outsides. Chop them in medium pieces, then steam them in chicken broth, with garlic, onion, mint and lemon juice until soft. Whiz them (or any cooked artichoke) with a wand mixer, adding a little cream or Greek yogurt and a bit of butter and grated parmesan to the mix. Toss with cooked pasta or spread on slices of toasted baguette to make tartines.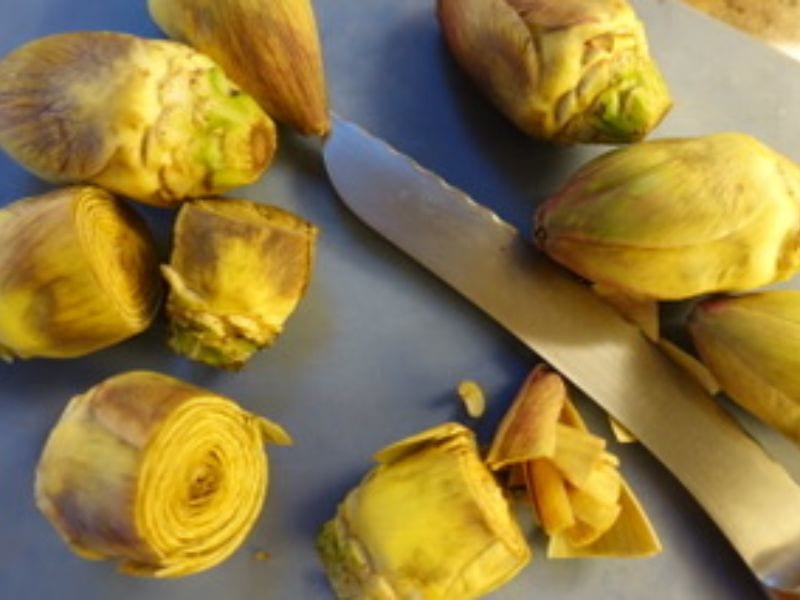 Recipe 1 : Crisp Sautéed Artichokes
Serves 4
Ingredients
6 baby artichokes, outer leaves discarded, stems taken off and sliced into pieces, tops pared off, and cut from the top down into thin slices, then sprinkled with the juice of a large lemon.
½ cup flour
½ teaspoon salt
½ teaspoon paprika
Fresh ground pepper
½ cup extra virgin olive oil
Method
In a paper bag or large bowl, combine the flour, salt, paprika and pepper and toss the artichoke slices and stems with the mixture.
In a large skillet, heat the olive oil and when very hot, distribute the artichokes in one layer, if possible. They will brown quickly on one side. I use a fork and small spatula to turn each slice over to brown well on the other side. Cover the skillet for about 3 minutes, then remove the lid and allow the slices to crisp again. Serve sprinkled with coarse salt, lemon juice and/or grated parmesan.
Fried artichokes may seem like a bit more trouble, but let me tell you, they are worth it!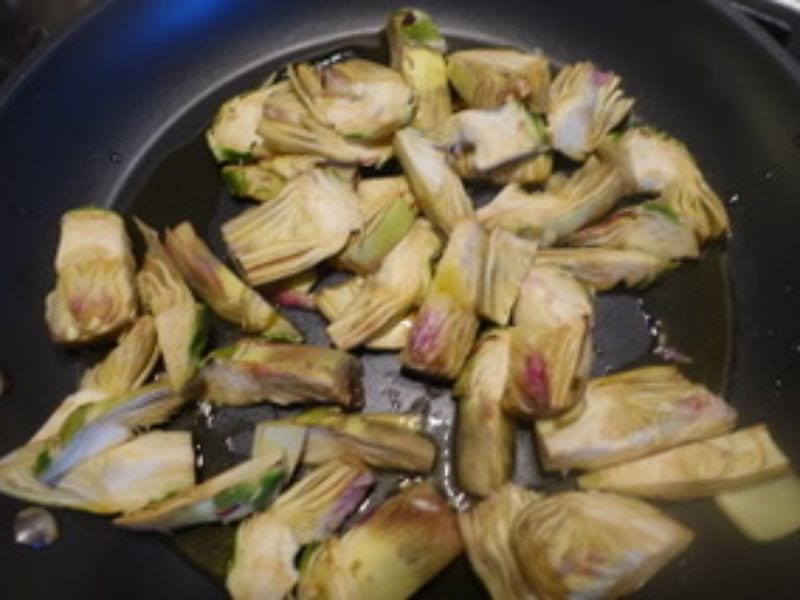 Recipe 2 : Steamed Globe Artichokes
Serves 4
Ingredients
3-4 globe artichokes, depending on size (some are huge, some are medium), cut into quarters
¼ cup extra virgin olive oil
4 cloves of garlic, peeled and chopped coarse (not coarsely, I'm a boring stickler for this, but fought with my editors and won)
1 teaspoon salt
1 cup white wine
Juice of a lemon
Handful of fresh mint, chopped fine
Method
In a pot large enough for the artichoke pieces, heat the olive oil and sauté the garlic for a minute or two along with the artichoke quarters. Turn them in the oil until they brown a bit.
Sprinkle with salt, add the white wine, cover and let simmer for about 30 minutes.
Check once to see if they are drying out, and add a bit more water or wine. When they are very tender, add the mint and lemon juice, turn off the fire and let them sit, covered, to get acquainted until serving time.
I love them at room temp and cannot get enough, but then I remember Catherine…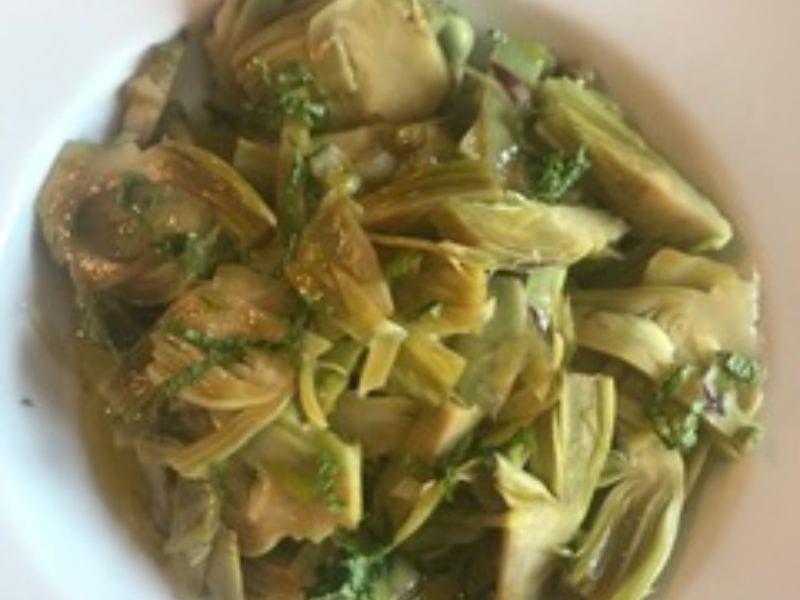 Recipe 3 : Violette Artichoke Salad
Serves 4
Ingredients
8 baby artichokes, tops pared, and sliced very thin, top to bottom.
½ cup extra virgin olive oil
Juice of 2 large lemons
1 clove of garlic, minced fine
2 stalks of celery, sliced very thin
A medium piece of parmesan or any hard cheese you like
Or a few anchovy filets laid over the salad in place of cheese
Method
Bring a pot of salted water to a boil and throw in the artichoke slices for 1-2 minutes only. Drain quickly and toss the slices with the olive oil, lemon juice, garlic, and celery, and let sit to marinate for a few minutes.
Distribute the artichokes evenly on salad plates and arrange thin slices of parmesan over each salad.