GARDENING IN THE PYRENEES ORIENTALES

With Gill Storey
This is the time to think about water storage for the future.
If, like us, you have access to an irrigation canal, water supply is simple during the summer months: you water or irrigate at the set times as laid down by your Mairie.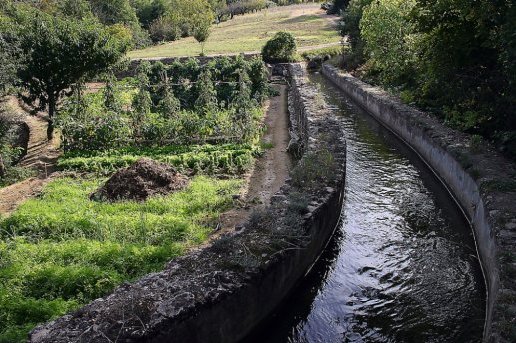 But in winter watering can be a problem. If you buy a 1,000 litre container (about 225 gallons), you can fill it up during the summer, before the canals close, and use it during winter as a source of supply. A tank can be filled from garden shed gutters, or a pump may be used to lift water from a canal.
The more conventional solution is to buy water butts and to tap into the downpipes from house gutters. This works very well, and you can buy kits to join several butts together so that overflow is not lost. Note that water butts must have stands.

Rainwater harvesting is becoming more popular. This involves digging a large pit in the garden and capturing roof water in a storage tank, like a septic tank in reverse.
This water can also, if you plan ahead, be used for flushing etc. But as the tank is large, there may be a problem keeping the water pure in the long term, and it will mean using a pump to raise the water.
Unfortunately the French method of plumbing means that grey water (bath water etc) is lost into the sewage, and cannot be reused in the garden.
Again this is worth thinking about if you are building a new house, and can arrange your water outlets to connect with your butts. Overall, most years we get enough water for the garden but not always at the right time.
One way of avoiding the need to water is to plant a cactus bed. If you plant cactus and succulents, some of these plants may suffer from the heat. As soon as they show signs of growth, reduce their water, but if they become withered and wrinkled they are under pressure and may require a little help to keep them looking attractive.
Cacti can produce a spectacular display, as shown in the roundabout near Decathlon in Claira. The flowers of cactus are particularly brilliant, as they have to attract pollinators during a very short season when they come into flower.
Cactus can be found in specialist nurseries, which will give you good advice on their care. Choosing a nursery can be tricky, but if it is clean and tidy, without weeds in the plant pots, and there are no aphids or signs of infestation on the plant leaves, you will probably not inherit any problems. Use specialist nurseries for plants such as citrus.
Flower Garden
1. Plant hardy annuals such as nigella (love in a mist), marigolds, Welsh poppies, sweet peas (perhaps under glass, though mine survived outdoors last winter). Either plant in drills for planting out, or scatter through the garden where you want them to appear. Look in the seed racks for inspiration.
2. Dead head roses, dahlias and pelargoniums to ensure that they continue flowering.
3. Keep feeding pots and baskets. Feed and water camellias.
4. Divide and plant perennials as they die down. If you plan new perennial displays, now is the time to get them into the ground.
5. Bring in tender plants such as fuchsia before the frosts, but with dahlias and cannas wait until after frost when they die down. Roses should continue till late autumn, if you continue to look after them.
6. Take cuttings of fuchsias, pelargoniums and osteospermum and of evergreen shrubs.
7. Plant daffodils before the end of the month. Later in autumn, they become cheaper, but are dried out and not sure to do well. Try also planting anemones, crocus, snowdrops and cyclamen. Big pots of daffodils do well on a terrace, and can be re-used in summer for annual displays planted above the daffodil bulbs.
8. Trim evergreen hedges and cut back bushes which are threatening to take over. Some shrubs flower only on last year's wood so prune with care but cut out any dead and unsightly wood and shape the bushes.
9. Pick up and burn any leaves which are discoloured, pest-ridden or mildewed.
10. Use a "weed and feed" preparation on the lawn to dispose of perennial weeds but take care of the edges. Read the use instructions carefully.
Vegetable Garden
1. Keep sowing oriental vegetables, cabbage and turnips, with lots of compost.
2. Plant out young spring cabbage
3. Onion sets can go in now.
4. Trim asparagus sets to ground level, once they go brown.
5. Plant out your strawberry runners, into plastic sheeting.
6. Trim out fruited wood from your summer raspberry canes. Do not touch the autumn raspberries except to pick them.
7. Plant peaches and nectarines now while the ground is warm.
8. Order other fruit trees and bushes for later planting when the earth cools.
9. Keep harvesting fruits and vegetables as they appear. The gourds and squashes will continue till the first frost.