Guide to French Wine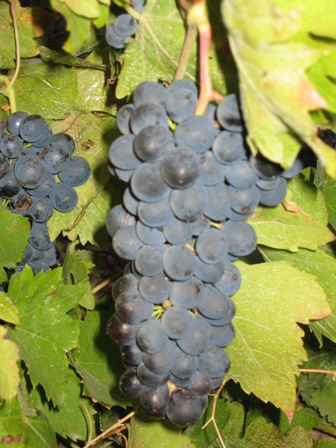 For people coming from the UK, French wines can pose a bit of a conundrum.
Many British wine drinkers are used to New World Wines which name the grape variety on the label.
In France, generally only certain Vin de Pays wines name the variety. These are known as Vins de Cepage.
While there are many perfectly well-made Vins de Cepage available, it would be a shame to limit ourselves to those just because the labelling is familiar.
Most of France's quality wines are Appellation d'Origine Controlee, which means they are labelled by their region of production. Hence you need to know what kind of wine that region makes to decide whether it is likely to be a wine you will like.
Here is a quick guide to give people accustomed to buying by variety some clues as to what to buy in France.
Dry White Wines

Sauvignon Blanc
The best value Sauvignon Blanc wines come from Bordeaux, especially the Entre Deux Mers appellation. You will also find Graves, Cotes de Bourg, Cotes de Duras and Bergerac Blanc wines in the same style.
If you want to go up-market, the Loire is the best region for fine Sauvignon Blanc with famous appellations like Sancerre and Puilly Fume. There are also better value versions from lesser known areas like Menetou-Salon, Quincy and Rouilly.
You'll also find decent cheap Sauvignon labelled Sauvignon de Tourraine and Vin de Pays de la Jardin de la France and Sauvignon de St Bris
Chardonnay
Chardonnay is the grape used in all the famous (and frighteningly expensive) appellations of Burgundy – Mersault, Puligny-Montrachet etc. However, the following all offer good examples of fine Chardonnay Bourgogne blanc, Macon Villages, Cotes de Beaune, Rully, Mercurey and Montagny.
Chablis is made from Chardonnay but in a crisper style.
Another small area for increasingly good Chardonnay is Limoux (not the sparkling one).
Other White Wines
Muscadet is a rather bland white wine from the Loire which traditionally goes well with oysters. The better wines are usually labelled Muscadet sur Lies.
The Loire also has Savennieres, Vouvray and Montlouis – all made from Chenin Blanc. Beware – these can range from dry to sweet.
Sec = dry

Demi-sec = medium-dry

Moelleux = sweet
Alsace has a whole range of grape varieties and helpfully puts the name on the bottle. The best aromatic wines are wines from Riesling, Gewurztraminer and Pinot Gris. You can also find dry wines from Pinot Blanc, Muscat, Sylvaner and Edelzwicker(which is not a single variety but a blend of the others). Vendage Tardive means late-harvested and will generally be sweet.
The whole of the South makes variable quality white wines. Picpoul de Pinet is a dry, savoury wine which is generally well-made and good with seafood. Otherwise, I'm afraid to say it is a bit of a minefield.
The South-West appellations of Gaillac, Cotes de Gascogne and Cotes de St Mont make generally drinkable but unremarkable crisp dry whites based on Sauvignon blanc and Colombard.
Jurancon Sec is a quality white wine from the Pyrenees-Atlantic.
Red Wines
Nearly all the International varieties originate from France.
Cabernet Sauvignon

The home ground of this famous grape variety is Bordeaux. It is nearly always blended with Merlot and in general the wines below have more Cabernet than Merlot.
There is a general ranking of Appellations within the Bordeaux area – from lowest to highest it goes like this…
Bordeaux and Bordeaux Superieur, Entre-Deux-Mers

Graves, Pessac-Leognan, Medoc and Haut Medoc

Listrac, Moulis

Margaux, St Estephe, St Julian and Pauillac
The outlying areas of Bordeax produce varying quality wines from Cabernet and Merlot and are often better value-for-money than Bordeaux. These include: Bergerac, Cotes de Duras, Buzet, Cotes de St-Mont and Gaillac
Merlot
Merlot hardly ever exists alone except as a Vin de Pays. It too comes from Bordeaux and is found in the following wines, again in rough low-high quality order:
Cotes du Blaye, Cotes du Bourg, Cotes de Castillon

Fronsac, Canon-Fronsac

Anything with St Emilion or Pomerol in the name. e.g. Lussac-St-Emilion

St Emilion, Pomerol
Pinot Noir
Burgundy is the home of Pinot Noir. The top appellations are very expensive but good quality wines can be found in the following appellations in roughly low-high quailty:
Bourgogne

Cotes de Nuits and Cotes de Beaune

Mercurey, Givry, Rully
Syrah/Shiraz – and other spicy reds
Although Syrah comes from the Rhone valley, you probably won't find anything like an Australian Shiraz in France. The appellations of Hermitage and Cote Rotie are very expensive Syrah wines but Crozes-Hermitage and St-Joseph offer better priced alternatives.
More often, Syrah is blended with other grape varieties such as Grenache, Mourvedre and Carignan to produce a wide array of interesting spicy reds. Here is a list in a no particular order but I've tried to group similar styled wines together.
Cotes de Ventoux, Cotes du Tricastin, Cotes du Luberon

Cotes du Rhone and Cotes du Rhone-Villages

Gigondas, Rasteau, Lirac and Vacqueyras

Chateauneuf-du-Pape, Costieres de Nimes

Coteaux du Languedoc, Pic St Loup, St Chinian, Fougeres

Minervois, Corbieres, Cotes du Roussillon, Collioure
Beaujolais
Most people know Beaujolais as a light, easy drinking red wine. More serious examples are named after the individual villages. These include Chiroubles, Regnie, Brouilly, Morgon, Julienas, Fleurie and Moulin-a-Vent.
Cabernet Franc

Not a particulalry well known grape variety found in most Bordeaux wines. It makes lighter style reds in the Loire which can range from fruity to quite serious wines which age well. Examples are Bourgueil, Chinon and Saumur.
Other Red Wines
The South West of France produces a range of wines from interesting grape varieties. These wines tend to be quite tannic and less fruity than Bordeaux.
Fronton

Madiran

Cahors

Irouleguy
Wines from Cotes de la Malpere and Cabardes are somewhere in between the Bordeuax style and the Languedoc style.
Sweet Wines
Most people have heard of Sauternes. Other, better value wines in the same style are –
Loupiac

Ste-Croix-du-Mont

Montravel

Monbazillac
Premieres Cotes de Bordeaux makes some lighter style sweet whites.
Lighter and crisper sweet wines come from the Loire appellations of Vouvray, Montlouis and Coteaux-du-Layon
Fortified Muscat is produced in many areas of the Rhone and the South.
Maury and Banyuls are sweet dark wines similar to Port but less alcoholic
Rivesaltes consists of lighter fortified wines in a number of styles.



Sparkling Wine
As well as Champagne, France has a wide range of sparkling wines, labelled Cremant or Blanquette. The words Petillant and Mousseux also mean sparkling. Limoux is the original sparkling wine of France.
Article written by Jonathan Hesford of Domaine Treloar.
If you want to learn more about wine and how it is made, come and visit us for a vineyard talk and tutored tasting. Phone 04 68 95 02 29 for information.