Horizons: Beyond walls and bridges
By Ellen Turner Hall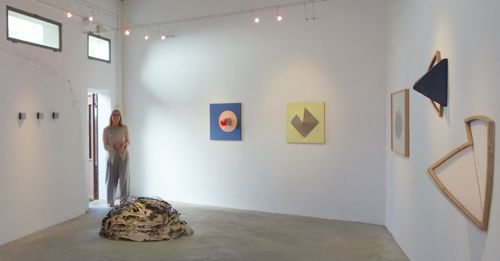 Just across the border in Colera, "Horizon" takes on new meaning: a gallery dedicated to contemporary art founded 20 years ago by Ralph Bernabei and Silvy Wittevrongel. Silvy states their philosophy as "building bridges as opposed to constructing walls".
And so it is in their current show, "Walls and bridges" open until the 21 September. The works refuse to stay neatly and tamely within their frames, but project upward and outward, literally "in your face», demanding a closer attention on the part of the observer. The collective effect calls into question the distinction between 2-dimensional painting and 3-dimensional sculpture.
Where does this shared elastic vision of space come from? The personal "horizons" of the nine exhibiting artists are global: a Japanese working in Paris, an American working in Switzerland, a Swede working in Berlin and so on. Uprooted and transplanted, these artists have experimented with a new freedom of expression.
In the hands of Yoon Hee swirls of liquid bronze are transformed into a mysterious nest. Matsutani's gluey surfaces risk oozing out of the canvas. Cécile Andrieu's miniature "Dictionary, wood, ink" triptych plays on words as well as scale. The twisted structures of Ralph Bernabei deconstruct the iconic picture frame into its basic materials: wood, canvas and paint.
Treat yourself to a new horizon just a short drive down the coast. Gallery Horizon is open Tuesday to Sunday 18.00-21:30.
Côte Vermeille Stories
by Ellen Turner Hall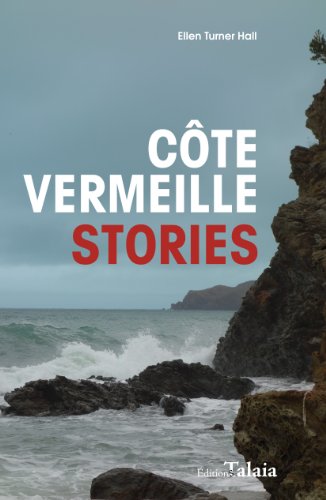 Since her childhood in New York, Ellen Hall has always been a storyteller. She has written and spun her imaginary world into tales to entertain herself, her friends, and now, a wider public.
In Côte Vermeille Stories, Ellen Turner Hall's carefully crafted prose invites us into her half-imagined world inhabited by characters who, like her, fall under the spell of one or other of the four villages of the Côte Vermeille.
Like her, their previous experiences are far flung. Like her, their knowledge and love of music influences their actions. They embrace their surroundings, sometimes seduced, sometimes seducers, sometimes deceived, often beguiled, never indifferent.
Their stories, twist and turn, basking in and buffeted by the eccentric charms of Catalonia's rocky coast.
In these four stories, at least one of which is shortly to become a film, Ellen guides the reader on a voyage of discovery along the Côte Vermeille.
Available in both French and English in bookshops and newsagents in the region and Amazon.fr