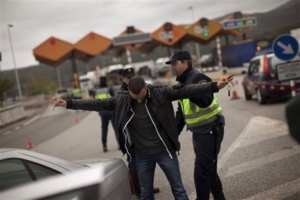 More armed police on the streets.
La police nationale may now keep their weapons with them even when off duty as long a) he or she wears a police armband for ID and b) he or she has attended at least one recent shooting course.
Curfews and an end to demonstrations.
The authorise can now insist on a curfew or prevent entry to the department of any person "cherchant à entraver l'action des pouvoirs publics".
Shows, concerts…
The local government now have the power to postpone or cancel any social gatherings, sports events etc that could be a threat to security.
Checks and searches (perquisitions) any time, day or night.
The 'forces de l'ordre' are able to make spot searches and raids at any time, without applying for a search warrant. This includes building and vehicles, both public and private. Some exceptions include magistrate's premises…and journalists!
Fiche S
The 10 000 people already "fichées S" may be either placed under house arrest or fitted with an electronic ankle bracelet if "il existe des raisons sérieuses de penser que son comportement constitue une menace pour la sécurité et l'ordre public".
What a brave new world we live in!