To all our helpers and supporters.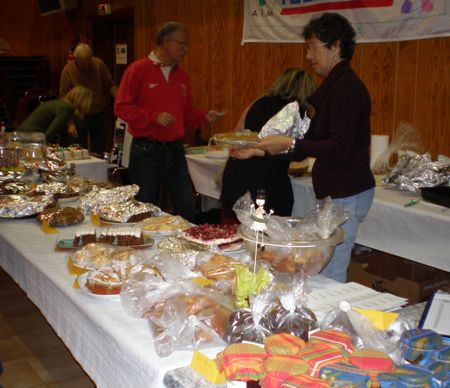 What a brilliant, fun afternoon.
Without your generous contributions and participation, it would not have been the success it was. You all worked so incredibly hard with not only the baking but also the running of the event on the day.
We made the wonderful sum of 1,680€, which is 385€ up on last year. The sale of cakes, preserves and tea came to 1,451€; Guess the Weight of the Cake 120€; Guess the Date 109€. All has gone towards the village total which this year is 13,700€, this is almost 2,000€ up on last year! We should all feel very proud of such a fantastic achievement.
We would like to take this opportunity to thank several people, without whom the event would not have been the success it was. They are Nicole Guillemat, the village co-ordinator for Téléthon; Philippe, Françoise and Claire Mansuy who did an incredible job setting up the hall which looked amazing; Carmen Soler; Guy from Nougatine; Jean-Louis from El Tap; Musiques à Maureillas for providing musical entertainment throughout the afternoon and Greville's Christmas Choir for getting us all into the Christmas mood.
Well done to everyone involved in this year's Téléthon Tea Corner. We hope you'll join us again in 2014 – we clearly make a winning team and want to keep it that way!
Thank you all, and may we take this opportunity to wish you and your families a merry Christmas and all the very best in 2014.
Colin & Lynn Heafield, Barbara Darwent and Jo Brace
PS: For those of you who may not have heard, the Soiree Musicale for Téléthon organised by Musiques à Maureillas made 700€, and 200€ was raised for the Philippines disaster! A great success all round.