MOUNTAIN MAMA IN LES ANGLES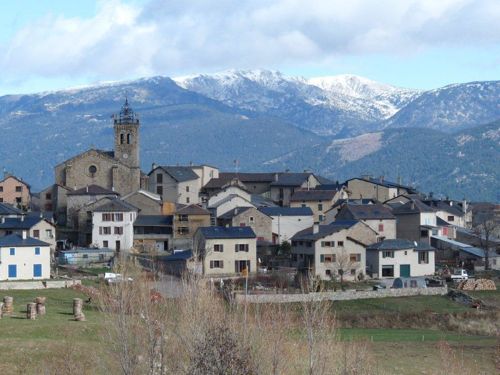 Christmas is just around the corner and most of my shopping is done. The Christmas puds are made and chutney, pickles and fruits are jarred, bottled and packed.
I was feeling quite smug until this morning when I spoke to a friend who said she had made her Christmas cake yesterday. Arrrgh , I'd forgotten all about it. How could I do that? Mum had always made hers in October, then it was "fed" until December when it was just about pure alcohol. The thought of having a slice of brandy with fruit had my Dad in raptures. And I have forgotten. How could I have missed out one of the most important things of Christmas. It will be done this week.
I blame it on living in France. Well, I have to blame something or someone. Age……never.
The village is poised with bated breath for some substantial snow as all the pre skiing jobs seem to be done. The big red mattresses are wrapped around the snow making machines and the grass has been cut. Yes you did read that correctly, the grass cut. I had hoped to get a photo but the tractor had moved on and I missed it. Just like cutting the lawn the pistes are mowed to make smooth skiing. Safety fences are up and everything is prepared, we only need the snow.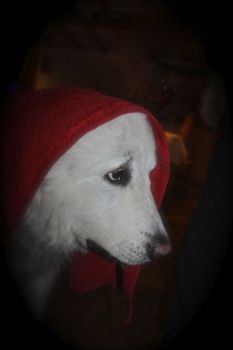 Happily I am back on my feet after foolishly breaking my leg in July. I can't blame Lil for pulling me down stairs, It was totally my fault for putting the leash loop around my wrist.
I can give nothing but praise for the French Medical system, they were all fantastic. Pity the NHS can't take a little leaf out of their book. No long waits for appointments, scans, tests e-rays etc I don't know how it works, but work it does.
A few weeks ago I went down to Esculoubre where we used to live. I knew of a tree that I was convinced was a medlar . We went up the lane, round the corner and there it was dripping in fruit – and so began the attack of the Old Age Scrumpers. I picked and Mike knocked them down with a stick. The bounty of free fruit was overpowering.
Back in the car we scuttled back up to Les Angles , out came the books and then the realization dawned……they weren't medlars at all. After much Googling and book trawling we found what we had picked were wild pears. They were awful. Hard, woody and vile. Serves us right….they all had to go in the bin. The best bit is that we went down to a market Spain and there were trays of medlars being sold by the "local home grown" producers. Six eggs in a basket, half a dozen leeks and bruised apples. It was lovely. Not one thing in plastic or tin or processed, what a healthy delight. And the medlars. Of course I bought a kilo for my jelly.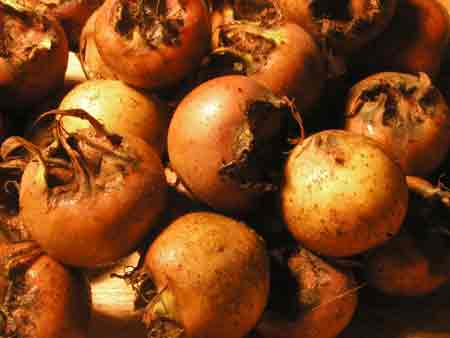 Medlars. Unusual in being available in winter, and in being eaten when bletted (browned by rot). Eaten raw and in a range of dishes.
So ,we continue to look forward to Christmas and hopefully a white Christmas. A Happy and Heathy Christmas and a much more Peaceful New Year.
Take care until next time.
Jen
Jenny's husband, Mike, is a qualified International Mountain Leader/Accompagnateur en Montagne and is one of the most experienced leaders in France, having walked and climbed in the Alps & Pyrénées for over 40 years.
Resident in Les Angles, Mike will give you a day to remember so don't forget your cameras!
For safety reasons the group size is limited, so book your place early
Contact Mike & Jenny Rhodes on 04 68 04 37 28 or email: mike.rhodes@free.fr
If you would like to visit Les Angles, Jenny and Mike offer comfortable accomodation in their delightful barn conversion apartments on the edge of the old village of Les Angles.