with Elaine Koerner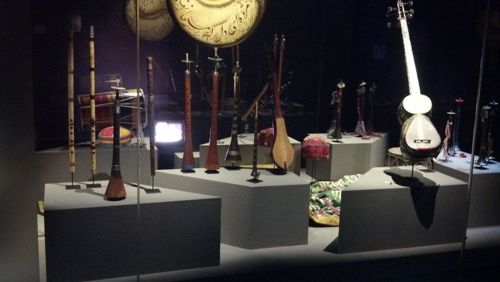 Have you ever set eyes on a percussion instrument made out of the lower jaw bone of a donkey, teeth still intact, with a little wooden stick to bump along the teeth? Or how about a silver and jewel-encrusted horn-trumpet conch shell from a Tibetan Buddhist monastery? Or for that matter, have you ever really had a good close look at the instruments played by a Catalan cobla orchestra at a sardane dance festival?
All these sights and more can be yours for the gazing when you visit Céret's newest museum, MúSIC: Musée des instruments Céret. The official inauguration took place under sunny, breezy skies on Saturday, May 18, with Senate President Jean-Pierre Bel coming into town for the snipping of the ceremonial ribbon.
MúSIC is housed on Rue Pierre Rameil in the former St. Pierre Hospital, next to La Capelleta. Colorful posters featuring musical instruments and their cultures of origin have been mounted on the building's imposing stone façade to tempt casual passersby with a taste of what lies in store on the other side of the walls.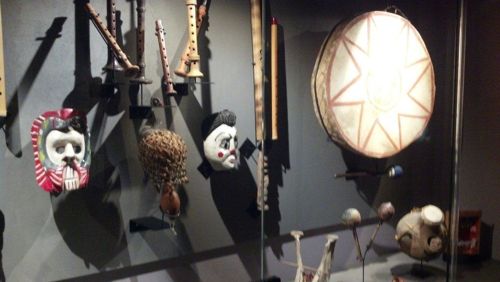 What lies in store, as it turns out, goes far beyond what one might expect, whether you are an aficionado of 18th century clarinets or just somebody who has a spare hour or so and decides to give the museum a try. It's awesome, really. For starters, there is the dramatic lighting, the myriad photos and video clips, and the evocative background sounds of music and everyday life that permeate the rooms. To boot, the instruments themselves are stunningly displayed in glass cases, set against a colorful backdrop of headdresses, crafts, toys, fabric, and jewelry. The net result, a dreamer might say, is that the instruments almost seem to come alive.
MúSIC boasts two primary collections that are displayed in a series of rooms on two floors (elevator available). The first — more than 300 Catalan instruments gathered over the past several decades by The International Centre for Popular Music (CIMP) which, incidentally, retains administrative responsibility for the museum. In addition, due to a very generous donation from Stefan Herzka and his wife Verena Nil, visitors have the privilege of viewing an astounding collection of instruments from Eurasia, North Africa, and Central America, oboes being the centerpiece.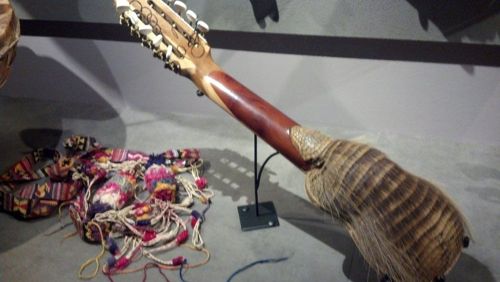 A tour of the museum begins through a gated stone archway into a dimly lit room with an impressionistic map of the world. Subtle background sounds of birds, village life, water, and music invite the visitor to prepare for an exotic journey of the senses. Photos of musical instruments and those who create the music fade in and out on various portions of the map.
Moving on from room to room, dramatic spot lighting and background sounds continue to set the tone. In the ground floor room displaying the Catalan instruments, a video screen has been mounted off to one side with footage from a recent Festival de sardanes in Céret – perhaps a chance to spot a friend or family member, or perhaps even oneself(!). Upstairs is where the Herzka-Nil collection can be found. Here, also, is a room devoted to floor-to-ceiling film clips that feature close-ups of musicians from many different cultures and their instruments.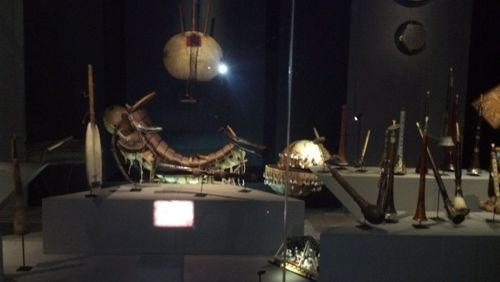 So much to take in. So much to think about. But perhaps one of the most powerful messages made very clear is this one: MúSIC is a museum of popular music played on popular instruments, a music of the people. It is not the music performed in guilded opera halls or acoustically-designed spaces for symphony orchestras whose musicians sport tuxedos and floor-length gowns. It's music performed by extraordinary ordinary people to celebrate day-to-day life, ease death, fill in the spaces of loneliness in remote pastures, and blend into the cacophony of clanking and clanging in crowded marketplaces. It's the real deal.
The practical information:
For English speakers, some accommodation already has been made, and more is in the works. A portion of the information on the wall placards has also been translated into English, and the instruments are clearly labeled with their country of origin, which often can be deciphered into English. For the future, on-line information in English will be available via mounted tablets installed in several of the rooms, and self-guided tours using headphones and English-language tapes will be on offer.MùSIC Musée des instruments Céret
14 rue Pierre Rameil 66400 Céret
T (33) 04 68 87 40 40
www.music-ceret.com
contact@music-ceret.comOpen:
May 2 – September 14: 10:30-1:30 &2:30-7 Every day
September 15 – April 30: 10:3012:30 &2:30-5:30 Closed Saturday afternoon, Sunday, and Tuesday

PRICES
Adult – 5 euros
Youth – 3 euros
Less than 7 years – free
Groups of 10 or more – 4 euros
Schoolchildren – 2 euros