"Les Nanas", an exhibition by Jacques Capdeville at the Musée d'Art Moderne de Collioure, is 100% female. "Nana", refers familiarly to girl, woman, chick or babe. Capdeville presents a series of portraits of women unbound – hair astray, lipstick smeared, breasts frankly exposed, eyes defiant.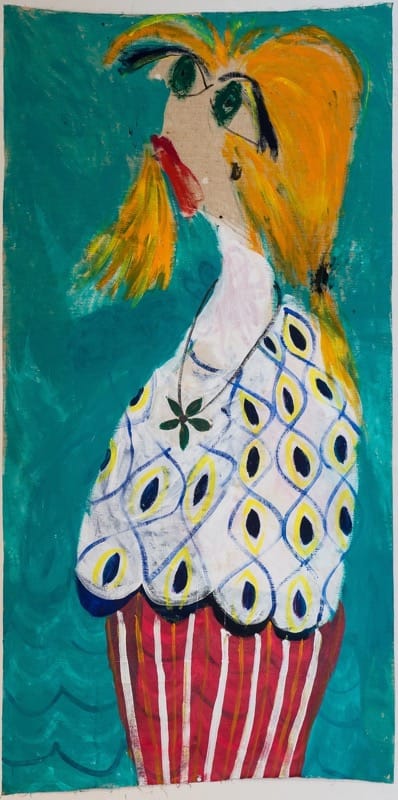 Each of Capdeville's portraits starts with a pair of enormous eyes with feathery lashes protruding from an elongated Giacometti-like head.
Like an exotic flower bursting into flamboyant life atop a slender stem, each nana reveals her vital energy. Updos launch themselves in all possible directions – a volcanic explosion completely out of control. One can imagine the blood-red lips joyously uttering profanities. Just for the hell of it. Clothing is scarce. Earrings spin out into their own orbit. Necklaces emphasize the contrast between the thinness of the neck and the fullness of breasts.
Towards the end of the exhibition, Capdeville's collection of rocks, each one painted with a single flower, illuminates the meaning of the nanas: an elemental mixture of mineral strength and solidity on the one hand and the delicacy and fragility of the flower on the other.
In this post-Weinstein, #MeToo era, it is refreshing to meet these exuberant nanas who have no inhibitions. Neither marginalized victim nor mere survivor, each nana is empowered by her own energy, her own essential mystery.
Capdeville's "Les Nanas": 1989-2018 runs from 10 February to 21 May. For details see: www. collioure.mobi/museedartmoderne