New Generation of Speed Cameras in France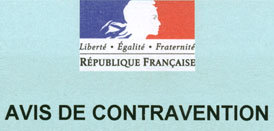 Watch out for a whole range of new speed cameras launched in France for the summer season.
Not only will you find (or not find before it's too late) accurate and compact cameras hidden along main roads and motorways, but they are also able to perform multiple functions such as checking safe driving distances, catching you out for ignoring stop signs, going through a red light…..
A partiularly sneaky tool in the release of fleets of unmarked vehicles (black Audi S4's seem to be popular for this) with cameras fitted in front, back, and side, allowing them to monitor the speed of several vehicles at once and check vehicles travelling in the same or opposite direction, when overtaking, from any angle…. The vehicles will be driven by uniformed police, and use infra rouge flashers which you wil not see until you receive the 'avis de contravention' through the post.
Here in the P-O, look out for unmarked police Renault Meganes with radar speed detectors hidden behind the numberplate and infra-red camera on the dashboard, intended to specifically target the highest speeders.
Lighter units are also being tested, which can be fitted to motorcycles.
Remember too that warning signs for speed cameras are to be removed and replaced with general signs which could be up to 2 kilometres in advance rather than the 400 metres previously.