I met the wonderfully knowledgeable and enthusiastic couple who own the Vallespir's saffron farm (Domain Casanoveas, Maureillas Las Illas) at a Goat Festival in Arles sur Tech. Their passion for farming was completely evident as they explained how they lovingly raise their crocuses. Each stem is hand-picked and carefully dried in an oven to produce wonderful golden saffron which crumbles in your hand and has such rich earthy aromas.
You can also follow Marie, a saffron farmer from Espira de Conflent, as she takes us step by step on the fascinating journey from the crocus to your table.
Saffron is a spice to be used lightly and carefully. A tiny 3g jar can last a long time and will add subtle but delightful flavour to paella, mayonnaises, soups and stews.
This is a real heart-warming stew emanating from Galicia , but it is perfect on any cold April day, especially those in the Vallespir when the fog descends and covers the mountains like a blanket.
I have made a few changes to this traditional dish to incorporate the local pork, peas, wines, vinegars and saffron. I tend to freeze leftover wine so that I always have a small quantity readily available. As the potatoes release their starch during cooking they will naturally thicken the cooking liquid.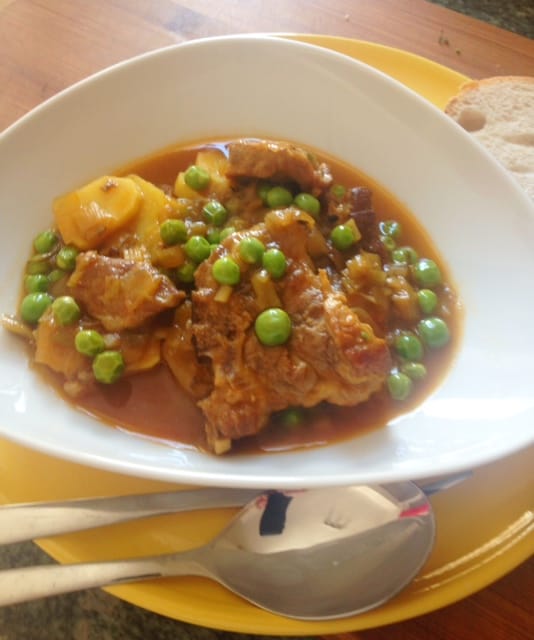 ♦ 1kg Pork Chops (Cote de Porc) thickly sliced and cut into large cubes
♦ 30ml Extra Virgin Olive Oil
♦ 2 Onions (or 8 Spring Onions with most of the green part left on and cut into 1/2cm lengths)
♦ 3 whole fresh green Garlic bulbs and stems cut into 1/2 cm lengths (or 3 Garlic cloves crushed to a pulp with a pinch of salt if you can't get hold of fresh young garlic)
♦ Salt
♦ 2 Tomatoes with the core removed and finely diced
♦ 30ml Good Quality Vinegar (I use a local vinegar from either Chateau Valmy or Les Clos de Paulilles)
♦ Pinch Saffron crumbled in your hand
♦ 300ml Muscat (I use a local Muscat from Rivesaltes)
♦ 400g Fresh Peas (podded weight approx. 200g)
♦ 700g New Potatoes peeled and cut into 1cm slices
♣ Place a large deep frying pan over a medium high heat. Add half the olive oil and fry the pork in batches until the cubes turn golden brown, then remove and set-aside. Turn down to a medium heat and add the remaining olive oil, 3 tablespoons of water, a generous pinch of salt, the onions, and the garlic to the pan.
♣ Sweat the onions and garlic until they are meltingly soft, stirring occasionally to ensure they cook slowly and evenly (this can take as little as 10 minutes if you are using spring onions).
♣ Add the tomatoes and cook until they have turned deep red and the excess moisture has evaporated. Add the vinegar and allow it to form a glaze around the onions with most of the liquid evaporating.♣ Add the saffron and the wine.
♣ Return the pork to the pan and add just enough water to just reach the top of the meat. Add a pinch of salt and turn the heat down to a very low simmer then cover the pan with a lid or a piece of parchment paper and cook very gently for 2 hours or until the pork is very tender.
♣ This dish can be prepared a couple of days in advance to this point.
♣ Add the potatoes to the pan, re-cover and bring the pan back to a simmer and cook until the potatoes are soft (about 30 minutes). Then add the peas and a generous seasoning of white pepper and cook for 5 minutes.
♣ Allow the dish to rest for 5 minutes before serving.
This one-pot meal goes very nicely with a thick slice of crusty bread to mop-up the juices.
[/vc_column_text][/vc_column][/vc_row]