Perpignan – Dove andiamo a cena stasera?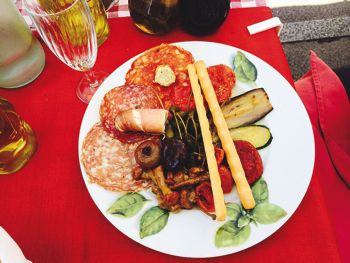 There are many good and some great restaurants in Perpignan.
Spaghetteri'Aldo is one which ticks all the boxes for me, as a resto which caters for everyone – vegetarians, carnivores and 'pativores' (my made up word for pasta eaters, so don't quote me!)
A stone's throw away from the Castillet, heading past Galleries Lafayette towards the Théâtre de l'Archipel, this bright and cheerful Italian restaurant, run by Magali and Philippe (who has 20 years of 'cheffing' behind him) is small on price, but big on flavour and quality produce.
Eat indoors or on the terrace, which despite being near a main road, wasn't disturbed at all by passing traffic when we visited in mid-May.
The dilemma? How on earth to choose from such an amazing range of pasta dishes?
Ravioli au foie gras, spaghetti vongole with clams, mussels and king prawns, tortellini au crabe, rigatoni, tagliatelle, fettuccine…along with speciality mushroom or seafood risottos, traditional Italian meat dishes, good choice of saIads…and antipasti to melt even the hardest critic's heart.
Too much to describe, you have to taste to believe! My friend, a 'hearty' eater to say the least, couldn't finish her main course, a rare occurrence!
Described by many as 'les meilleures pâtes de Perpignan' (no pizzas!), Spaghetteri'Aldo also has a good choice of light Italian summer wines and homemade desserts to cry for.
Definitely at the top of my list next time I eat out in Perpignan.