SAY NO TO THE CORRIDA. JOIN US FOR A PEACEFUL DEMONSTRATION AGAINST THIS CRUEL AND BABARIC PRACTICE.
Tuesday 16th August, COLLIOURE
RV at 16H – parking de la GARE SNCF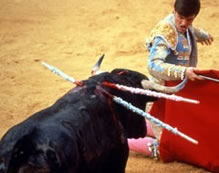 ON THIS DAY SIX YOUNG BULLS WILL BE TORTURED AND PUT TO DEATH DURING THE NOVILLADA, WITH THE BLESSING OF THE COLLIOURE MAIRIE
You will be given instructions on the action and equipment (signs, banners…) if you wish.
If you have an anti bullfight T shirt, please wear it. If not, wear a black T shirt
More info : 06 61 17 18 15 ou 04 68 35 61 13
Front des Luttes pour l'Abolition des Corridas (FLAC66)
flac66@wanadoo.fr
NB : Shared transport can be arranged.If you are intending to arrive in Colliour by your own means, bear in mind that parking is very difficult during the Festival of Saint Vincent. There are special trains which leave Perpignan for Collioure every hour, stopping at Elne and Argelès en route.