LES RADARS DANS LES PYRENEES-ORIENTALES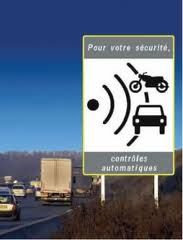 There is a specific phone number (French only) to ring, if you have any questions resulting from being 'flashed' Tel: 08 11 10 To check out speed traps throughout France, there used to be a map here but following a government initiative in May 2011 to remove signs warning drivers of speed cameras ahead, the location of the 'radars' has been removed from the government site. Radar warning signs will be replaced by flashing speed limit reminders, giving drivers a chance to adjust their speed before arriving at the camera.
Whilst some may say the NINETEEN speed traps in one small department, with more to follow, plus at least SIX mobile speed traps belonging to the gendarmerie and the CRS, is going over the top in such a small department, there is evidence nationally that the programme of 'radars' or speed traps popping up throughout France is already proving its effectiveness and average driving speeds are dropping.
However, speed related deaths on the roads continue DESPITE the 'radars'
The préfecture of Perpignan explains that the growing number of radars in the PO is due to the department being a touristic and border region, with 10,000 – 15,000 heavy goods vehicles passing through per day and thousands of visiting tourists.
Speed traps in the Pyrénées-Orientales (radars)

A9 –

LES CLUSES

– direction south -> north – Limit: 110 km/h
D83 –

LE BARCARES

– direction Perpignan -> Leucate – Limit: 110 km/h
D900 –

PERPIGNAN

– direction Narbonne -> Perpignan – Limit: 110 km/h
D900 –

PIA

– direction Narbonne -> Perpignan Limit: – 110 km/h
D900 –

VILLEMOLAQUE

– direction Le Boulou -> Perpignan Limit: 90 km/h
D914

COLLIOURE

– direction Perpignan -> Cerbère – Limit: 90 km/h
D914

PERPIGNAN

– direction Perpignan -> Argelès sur Mer – Limit: 110 km/h

PERPIGNAN

(Boulevard Felix Mercader) – direction Bd Mercader -> Bd des Pyrénnées – Limit: 50km/h
D115 –

SAINT-JEAN-PLA-DE-CORTS

– direction Le Boulou -> Céret – Limit: 90 km/h
D612a –

TOULOUGES

– direction Thuir -> Toulouges – Limit: 90 km/h
D617 –

CANET-EN-ROUSSILLON

– direction Perpignan -> Canet-en-Roussillon – Limit: 110 km/h
D618 –

SAINT-GENIS-DES-FONTAINES

– direction Argeles -> Le Boulou – Limit: 90 km/h
D81a –

SAINT-CYPRIEN

– direction Canet-en-Roussillon -> Saint-Cyprien – Limit: 50 km/h
D900 –

PERPIGNAN

– direction Perpignan -> Le Boulou – Limit: 90 km/h)]
D914 –

ELNE

– direction Argelès-sur-Mer -> Perpignan – Limit: 110 km/h
N116 –

LE SOLER

– direction Prades -> Perpignan – Limit: 110 km/h
N116 –

RODES

– direction Prades -> Perpignan – Limit: 90 km/h
D618 –

SAINT GENIS

– direction Argelès -> Le Boulou – Limit: 90 km/h
D914 –

ARGELES

–

direction Collioure -> Argelès

–

Limit: 110 km/h