Suquet – coming from the Catalan 'suc,' which means 'juice' of which there should be plenty in this soup-like fish stew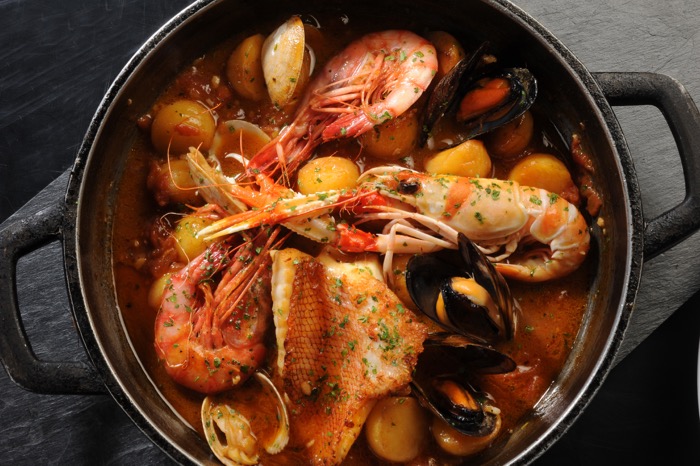 A type of seafood stew or casserole, a suquet relies on raw ingredients which used to be thrown into an iron pot by fishermen out on the rough seas of the Mediterranean.
They would then eat their meal on a thick slice of bread and use the bread to soak up the juice or stock that remained.
The suquet recipe has many combinations, often containing potatoes. Here is one recipe, along with a picada, also one of many variations, which adds a different level of taste and texture to the dish.
Ingredients
One monk fish tail (queue de lotte), and other similar fish (rascasse, Saint-Pierre, rouget grondin) cut into pieces
1kg mussels
12 king prawns (gambas)
1,5 kg potatoes (cut into large pieces)
2 finely chopped onions.
1 green pepper and 1kg tomatoes (cut into small pieces)
olive oil
garlic, salt, pepper
thyme, laurel, oregano, saffron
2 slices toasted bread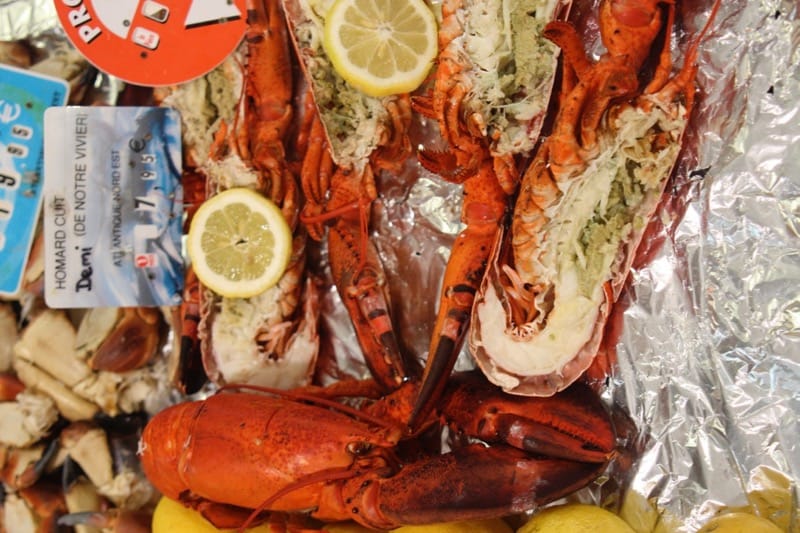 Picada (Catalan "roux" to accompany suquet)
– 2 cloves garlic, minced
– 30 almonds and/or hazelnuts
– ¼ teaspoon salt
– olive oil
Suquet
Soften the chopped onion in 4 tablespoons of olive oil. Add the pepper and tomatoes and simmer. Add the potatoes and the monkfish. Cover with water and add the thyme, laurel, oregano, saffron and three garlic cloves. Add salt and pepper. When the water boils, add the other chosen fish and boil for 20 mins. Add the mussels and gambas 5 mins before the end.
Picada
Crush or grind to a paste the ingredients of the Picada, except the bread, parsley and oil. Add enough oil to barely cover the picada, and then work it into the mixture slowly to form a thick paste. Smooth onto the toast, and place on the suquet just before serving.