TGV Perpignan – Barcelona still on hold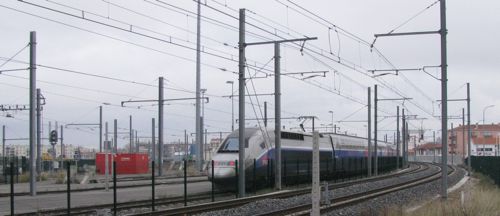 The Chamber of Commerce in Barcelona is one of several agencies to protest against the delay of the Barcelona-Perpignan section of the proposed TGV line, as well as the indefinite postponement of the Perpignan- Montpellier line.
In a statement released a few days ago, they complained about the absence of any official communication on the progress and dates of the opening of the LGV (ligne à grande vitesse) and believe that it is unlikely to take place before next year.
In the same press release, they register their astonishment that the Spanish and French governments have not yet been able to collaborate and run trains continuously on the Perpignan – Barcelona LGV , whilst the Spanish AVE has run smoothly for eight months to Figueres – Vilafant.
They accuse Renfe and SNCF of being seemingly incapable of sanctioning their respective transport units on the network between the two countries, blaming it on the history between the two operators..
It seems that the French authorities allow RENFE trains to travel at high speed to Lyon, Toulouse and Marseille . but not to Paris .
In the end, it all comes down to the same conclusion. Despite its inauguration in April 2013, no official date has yet been given for the TGV Perpignan – Barcelona in 50 minutes.