TGV Perpignan -Barcelona: Will I live long enough?
by Basil Howitt
Basil Howitt sends an update on the progress of the new TGV link between Perpignan and Barcelona. He also wonders if he will live to take a TGV train all the way from Paris to Barcelona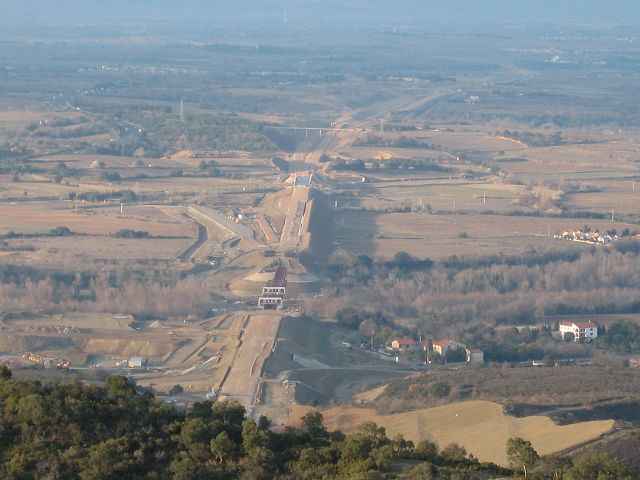 Whilst tourists roasted on the beaches of the Côte Vermeille last summer, railway workers nearby at Le Perthus slaved away underground like the Niebelungen dwarfs in Wagner's Das Rheingold. Under the direction of the German company Wittfeld (a subsidiary of the French group Eiffage), and in a constant temperature of 25°C, 100 workers took 60 days to complete the track-laying in Le Mistral tunnel of the new TGV line between Perpignan and Figueras.
Le Mistral is the southbound cross-frontier tunnel, La Tramontane the parallel northbound one. This line will ultimately, of course, continue to Barcelona, though the earliest date envisaged for the full-distance service is 2012. Long delays are due to intractable geological problems at both Gerona – where two tunnels still need to be built avoiding or diverting three water courses – and Barcelona (see previous article).
However, the Perpignan-Figueras section will come into service in the spring of 2010. Between 2010 and 2012 passengers will take the TGV to Figueras (20 minutes) and cross a platform for a conventional train to Barcelona (1½ hrs).
The change will be necessary because Spanish conventional lines have a wider gauge (1668-m) than the standard European one (1435-m). The track-laying workers at Le Perthus will have left the job with bulging pay packets – and rightly so. They worked in shifts 24 hours a day, seven days a week. Instead of using conventional hardcore ballast on which to lay the rails in the tunnel, they laid a concrete base – an initially more expensive procedure but cheaper to maintain underground thereafter.
A constant, ant-like stream of lorries, each carrying eight cubic metres of whirling concrete, drove on to a train which carried them to the first unloading point. This was another parallel train which then carried the concrete in trolleys to be poured out at the furthest point of progress. This relentless process enabled about 200 metres of track to be laid each day, each lorry load being enough to fill 11 metres of track.
The length of the tunnel is 8.3 kilometres. While all this was going on, another firm, Forclum (another subsidiary of Eiffage), carried out the electrical installations. Throughout the 44 kilometres of track between Perpignan and Figueras some 1,000 metres of electrical and fibre optic cables have been installed, uniquely for the TGV trains. (Goods trains will also use the line.)
A mobile phone network is also in place in the tunnel so that passengers will be able to continue using their phones without interruption. Tough cookies for those who loath the sound of mobiles on their train journeys!
TP Ferro
The umbrella company and concessionaire responsible for the entire project is TP Ferro which belongs half to the Spanish group ACS and half to Eiffage. (ACS has been responsible for laying the track of the northbound tunnel.) Of the total cost for this 44km stretch of line of 1.1 billion euros, TP Ferro have put up 100 million from their own funds and 400 million from loans by 18 banks! The French and Spanish governments have together put up 600 million thanks to substantial funding by the EU. These figures are hard to credit until one realises that no less than 1.5 million cubic metres of earth and rock had to be extracted to create the two tunnels and their 41 connecting corridors roughly 200 metres apart.
Pay back time
TP Ferro will retain the concession until 2054. In return for designing, building and operating the line, the company will be paid tolls by the two users, SNCF and RENFE: 550 euros for each goods train and 1,350 euros for each TGV, which works out at roughly 3 euros per passenger.
Excited!
At the forthcoming ceremonial opening of the tunnel on 17th February no-one will be more excited than Perpignan's mayor Jean-Paul Alduy. Though whether he will still be mayor when the Perpignan–Figueras section opens to passengers in two years time depends on various judicial outcomes. Admired for his vision and tenacity by many, or loathed for his delusions and pigheadedness by almost as many others, Alduy sees this train line as a vital means to the economic development of a vast "agglomeration" stretching from Narbonne to Barcelona, providing an enormous boost to his beloved but ailing, impoverished city. We shall see.
Guillaume Pepy
During a visit to Perpignan on 8th January by SNCF's President Guillaume Pepy, Alduy proudly accompanied him on a viewing of the vast forum-in-progress incorporating what will be the refurbished old station and the new TGV station. This whole area, due to be completed in 2011, will include a new signal box (already in service), the two stations, a car park, and a centre d'affaires or business complex including offices, luxury flats and a hotel.
Paris-Barcelona. Will I live long enough?
I often now wonder whether I will still be alive to take the TGV all the way from Paris to Barcelona via Perpignan. Perhaps! As many readers know, at present the TGV moves swiftly from Paris (and Brussels and Lille) to Nîmes. Then it's puffing billy speeds thereafter all the way to Montpellier, Bézier, Narbonne and Perpignan. However during his visit to Perpignan, Guillaume Pepy intimated that the TGV between Nîmes and Montpellier might be up and running "at best" by 2014. As to the remaining stretch from Montpellier to Perpignan, all he would say was it might be ready by 2121. All things considered, he said, this was not too long to wait. After all, France and Spain are, railway wise, Europe's two most dynamic countries. There's surely no arguing with that!
© 2009 Basil Howitt

BASIL LEFT US THIS YEAR AFTER A LONG STRUGGLE WITH CANCER.
Goodbye to the Manchester born writer, musician, researcher, lover of life, music, food, a glass or two of fine wine…
I've never actually met Basil in person, but he has been one of my dear Internet friends for a number of years. He left us at the end of 2011, after a long struggle with cancer, and although I never actually shook his hand, this is my loss, and I am sad that I never made more of an effort to be anything but an Internet friend. Rest in peace Basil. Your fascinating insights into history, heritage and life in the Pyrenées-Orientales will live on.