Le département of the Pyrénées-Orientales is now divided into 17 cantons (administrative districts).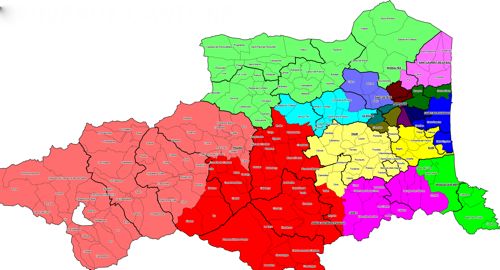 Canton 1 (Les Aspres)
Banyuls-dels-Aspres, Brouilla, Caixas, Calmeilles, Camélas, Castelnou, Fourques, Llauro, Llupia, Montauriol, Oms, Passa, Pollestres, Ponteilla, Saint-Jean-Lasseille, Sainte-Colombe-de-la-Commanderie, Terrats, Thuir, Tordères, Tresserre, Trouillas, Villemolaque.
Admin office: Thuir
Canton 2 (Le Canigou)
Amélie-les-Bains-Palalda, Arles-sur-Tech, Baillestavy, La Bastide, Boule-d'Amont, Bouleternère, Casefabre, Casteil, Corneilla-de-Conflent, Corsavy, Coustouges, Espira-de-Conflent, Estoher, Fillols, Finestret, Fuilla, Glorianes, Joch, Lamanère, Mantet, Marquixanes, Montbolo, Montferrer, Prats-de-Mollo-la-Preste, Prunet-et-Belpuig, Py, Reynès, Rigarda, Rodès, Sahorre, Saint-Laurent-de-Cerdans, Saint-Marsal, Saint-Michel-de-Llotes, Serralongue, Taillet, Taulis, Taurinya, Le Tech, Valmanya, Vernet-les-Bains, Vinça.
Admin office: Amélie-les-Bains-Palalda
Canton 3 (La Côte Sableuse)
Canet-en-Roussillon, Saint-Cyprien, Saint-Nazaire, Saleilles.
Admin office: Canet-en-Roussillon
Canton 4 (La Côte Salanquaise)
Le Barcarès, Claira, Pia, Saint-Hippolyte, Saint-Laurent-de-la-Salanque, Torreilles.
Admin office: Saint-Laurent-de-la-Salanque
Canton 5 (La Côte Vermeille)
Argelès-sur-Mer, Banyuls-sur-Mer, Cerbère, Collioure, Palau-del-Vidre, Port-Vendres, Saint-André.
Admin office: Argelès-sur-Mer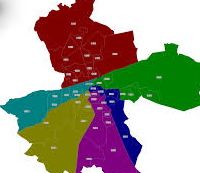 Canton 6 (Perpignan-1)
North of the Têt from Saint-Estève to Bompas.
Admin office: Perpignan.
Canton 7 (Perpignan-2)
Bompas, Sainte-Marie, Villelongue-de-la-Salanque, François-Palmarole, place de la Victoire, rue du Castillet, place Joseph-Sébastien-Pons, rue Pierre-de-Ronsard, rue Michel-de-Montaigne, rue Montesquieu, boulevard Jean-Bourrat, avenue Rosette-Blanc, rue Gustave-Violet, rue Aristide-Maillol, rue de Las-Cobas, rue du Rivage, rue Paul-Rubens, rue des Sept-Primadie, avenue Jean-Mermoz jas far as Cabestany.
Admin office: Perpignan
Canton 8 (Perpignan-3)
Cabestany – avenue Jean-Mermoz, rue des Sept-Primadie, rue Paul-Rubens, rue du Rivage, rue Las-Cobas, rue Aristide-Maillol, rue Gustave-Violet, avenue Rosette-Blanc, boulevard Jean-Bourrat, rue Montesquieu, rue Michel-de-Montaigne, rue Pierre-de-Ronsard, place Joseph-Sébastien-Pons, rue du Castillet, place de la Victoire, place de Verdun, pont Magenta, quai Sébastien-Vauban, place Gabriel-Péri, place Arago, rue de la Porte-d'Assaut, place du Pont-d'en-Vestit, rue des Augustins, place des Poilus, rue de la Fusterie, place Hyacinthe-Rigaud, rue Emile-Zola, rue de la Fontaine-Neuve, rue de la Côte-des-Carmes, place Jean-Moulin, rue Jean-Vielledent, boulevard Aristide-Briand, avenue Georges-Guynemer, rond-point du Pou-de-Les-Coulabres, avenue d'Argelès-sur-Mer, rond-point du Moulin-à-Vent, route d'Elne as far as Saleilles.
Admin office: Perpignan
Canton 9 (Perpignan-4)
From Saleilles, route d'Elne, rond-point du Moulin-à-Vent, avenue d'Argelès-sur-Mer, rond-point du Pou-de-Les-Coulabres, avenue Georges-Guynemer, boulevard Aristide-Briand, rue Jean-Vielledent, place Jean-Moulin, rue de la Côte-des-Carmes, rue de la Fontaine-Neuve, rue Emile-Zola, place Hyacinthe-Rigaud, rue de la Fusterie, place des Poilus, rue des Augustins, place du Pont-d'en-Vestit, rue Grande-la-Monnaie, rue des Sureaux, rue Jean-de-Gazanyola, rue des Archers, rue des-Rois-de-Majorque, rue des Lices, rue du Lieutenant-Pruneta, avenue Gilbert-Brutus, boulevard Félix-Mercader, avenue du Général-Guillaut, rond-point des Baléares, avenue d'Espagne, route du Perthus, as far as Pollestres.
Admin office: Perpignan
Canton 10 (Perpignan-5)
1° La commune de Canohès ;
2° From Pollestres, route du Perthus, avenue d'Espagne, avenue du Général-Guillaut, boulevard Félix-Mercader, avenue Gilbert-Brutus, rue du Lieutenant-Pruneta, rue des Lices, rue des Rois-de-Majorque, rue des Archers, rue Jean-de-Gazanyola, rue des Sureaux, rue Grande-la-Monnaie, place du Pont-d'en-Vestit, rue de la Porte-d'Assaut, place Arago, place Gabriel-Péri, quai Sébastien-Vauban, rue de Sully, Pont de Guerre, quai de Barcelone, rue Pierre-Cartelet, rue du Maréchal-Foch, boulevard des Pyrénées, cours de la Bassa as far as Toulouges.
Admin office: Perpignan
Canton 11 (Perpignan-6)
1° La commune de Toulouges ;
2° The areas of Perpignan not included in cantons Perpignan-1, Perpignan-2, Perpignan-3, Perpignan-4 et Perpignan-5.
Admin office: Perpignan
Canton 12 (La Plaine d'Illibéris)
lénya, Bages, Corneilla-del-Vercol, Elne, Latour-Bas-Elne, Montescot, Ortaffa, Théza, Villeneuve-de-la-Raho.
Admin office: Elne
Canton 13 (Les Pyrénées catalanes)
Les Angles, Angoustrine-Villeneuve-des-Escaldes, Ayguatébia-Talau, Bolquère, Bourg-Madame, La Cabanasse, Campôme, Canaveilles, Catllar, Caudiès-de-Conflent, Clara, Codalet, Conat, Dorres, Egat, Enveitg, Err, Escaro, Estavar, Eus, Eyne, Font-Romeu-Odeillo-Via, Fontpédrouse, Fontrabiouse, Formiguères, Jujols, Latour-de-Carol, La Llagonne, Llo, Los Masos, Matemale, Molitg-les-Bains, Mont-Louis, Mosset, Nahuja, Nohèdes, Nyer, Olette, Oreilla, Osséja, Palau-de-Cerdagne, Planès, Porta, Porté-Puymorens, Prades, Puyvalador, Railleu, Réal, Ria-Sirach, Saillagouse, Saint-Pierre-dels-Forcats, Sainte-Léocadie, Sansa, Sauto, Serdinya, Souanyas, Targassonne, Thuès-Entre-Valls, Ur, Urbanya, Valcebollère, Villefranche-de-Conflent.
Admin office: Prades
Canton 14 (Le Ribéral)
Baho, Baixas, Calce, Peyrestortes, Pézilla-la-Rivière, Saint-Estève, Villeneuve-la-Rivière.
Admin office: Saint-Estève
Canton 15 (La Vallée de l'Agly)
Ansignan, Arboussols, Bélesta, Campoussy, Caramany, Cases-de-Pène, Cassagnes, Caudiès-de-Fenouillèdes, Espira-de-l'Agly, Estagel, Felluns, Fenouillet, Fosse, Lansac, Latour-de-France, Lesquerde, Maury, Montner, Opoul-Périllos, Pézilla-de-Conflent, Planèzes, Prats-de-Sournia, Prugnanes, Rabouillet, Rasiguères, Rivesaltes, Saint-Arnac, Saint-Martin, Saint-Paul-de-Fenouillet, Salses-le-Château, Sournia, Tarerach, Tautavel, Trévillach, Trilla, Vingrau, Vira, Le Vivier.
Admin office: Rivesaltes
Canton 16 (La Vallée de la Têt)
Corbère, Corbère-les-Cabanes, Corneilla-la-Rivière, Ille-sur-Têt, Millas, Montalba-le-Château, Néfiach, Saint-Féliu-d'Amont, Saint-Féliu-d'Avall, Le Soler.
Admin office: Le Soler
Canton 17 (Vallespir-Albères)
L'Albère, Le Boulou, Céret, Les Cluses, Laroque-des-Albères, Maureillas-las-Illas, Montesquieu-des-Albères, Le Perthus, Saint-Génis-des-Fontaines, Saint-Jean-Pla-de-Corts, Sorède, Villelongue-dels-Monts, Vivès.
Admin office: Céret