The Spring exhibition at the Musée d'art moderne de Ceret is dedicated to the intriguing works of Joan Ponç, a Catalan artist whose paintings resemble both the distortions of Dali and the fantasy of Miro. And then there is the devil.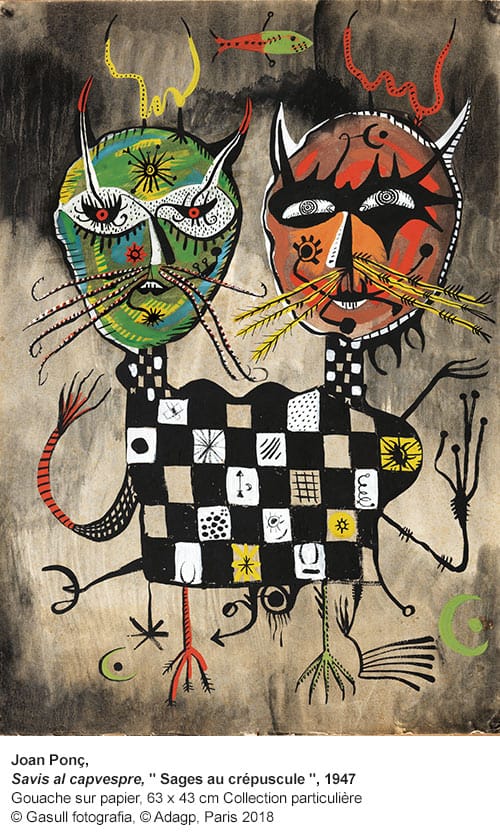 Titles like "Omens, Delusions and Hallucinations" give an insight into the artist's struggle with his inner demons. Ponç portrays his disquiet as a delicate balancing act, like riding a bicycle wearing a top hat from which is suspended a fishing line with a sea monster attached.
In self-mocking caricatures, he appears often as a harlequin, identifying with the comic-tragic figure. A painting of a fantastical two-headed cat-like creature in harlequin patches seems to indicate the play between good and evil.
Ponç confronts the darkness both metaphorically and physically. When towards the end of his life his sight was failing, black dominates many of his canvasses, though flashes of light illuminate the subject.
In the context of his encroaching blindness, the most touching work is a painting of three heads, their eyes disintegrating into shafts of light. With the aid of an enormous industrial magnifying glass, he still managed to draw a series of 424 miniature "Secret Boxes" – visions of magical beasts – before his death in 1984.
He wrote, "If I were reborn… don't look for me behind my easel. You will find me sharpening my thoughts, seated under a tree or on a rock."
In the end, Ponç's vision is neither pessimistic nor optimistic but ironic, sharpening his thoughts and, by extension, his pencils.