with Marian Thornley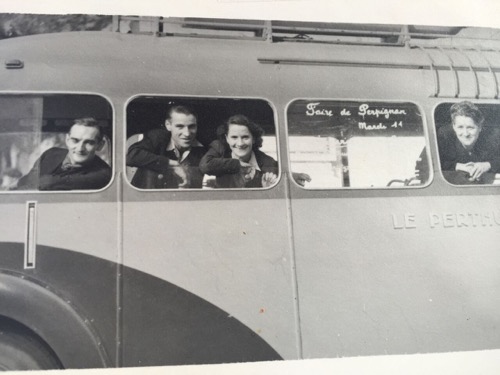 In June 2007, my husband Bill and I cycled to France. Actually, that's not strictly true. We put our bikes and ourselves on a special coach that takes cyclists to France and picks them up again at different points, after deciding to get off at Perpignan and spend the summer cycling home to Bowness in the Lake District, where we lived. At least, that was Bill's idea. My idea was to ride as short a distance as possible and buy a house!
That is how we came to buy Mas Pallagourdi. A huge, rambling, half-ruin of a house in the hills above Ceret. Like most other ex-pats we somehow lost our senses and signed on the dotted line without so much as a survey or without even knowing our own boundaries. Luckily, it all worked out in the end, and eight years later we still love our house in France. But now, with all the building work behind us it's time to take stock, take a deep breath and wonder about things. For example, how old is our house exactly? Who lived here before us?
This story is only just starting to unravel and I will write it up as I go along. I started with a conversation with our neighbours, Maggie and Armand Fabregas, their daughter Helene and son-in-law Vincent. Maggie's father, Rene, had purchased our mas on the hillside above Ceret, with two others in 1967.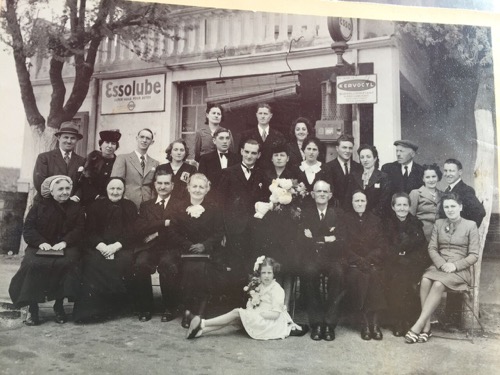 Rene Fabregas was a confident, well travelled business man by the time he bought the houses and land that comprised the domain in 1967. A local man of Spanish descent, he married Marie Louise Rolland in Banyuls del Aspres in 1942.
Early in his career, with two cousins, he ran a transport company, both in Le Perthus and Paris. The local company was called Cars Verts du Roussillon, and in one of the photographs I can see that there was a regular service between Le Perthus and Perpignan as well as trips for tourists.
With this business success behind him, Rene moved into the field of property development, buying a tranche of land and developing a lotissement in Calella de la Pallafrugell. Maggie was at pains to tell me that Rene was an honest man who had no wish to exploit anyone, he treated his workers as friends, and showed me photographs depicting meals and parties with both family members and workers. These were obviously happy times for a family which had close ties with cousins, aunts and uncles.
Maggie, Helene and Vincent explained that during the Second World War Rene was a participant in the local resistance movement but as he never spoke of his activities or of his experiences during this time they are unable to share any further details. But there was a photograph and newspaper cutting from May 1979, when Rene attended a function for resistance members in Paris. This event was headed by Jean-Louis Vigier, a prominent politician and chef-adjoint of the Reseau Maurice (La Semaine du Roussillon No. 970). Rene is pictured with Marie Louise and other members enjoying a meal on a riverboat on the Seine.
I discovered more information about Le Reseau Maurice on the internet. It was an intelligence organisation created in 1943. Its aims were to transport personnel across the border into Spain as well as to gather and transmit military information. I would guess that Rene would have been part of the Maurice 1 group whose headquarters were in Perpignan under the leadership of Catalan refugee Valls de Gomes. Of the 350 Allied aviators who were safely transported across the Pyrenees by the Reseau Maurice, 50 crossed via PO routes. Of course, this was dangerous work. Of the 316 agents 61 were arrested and 11 were shot or killed.
I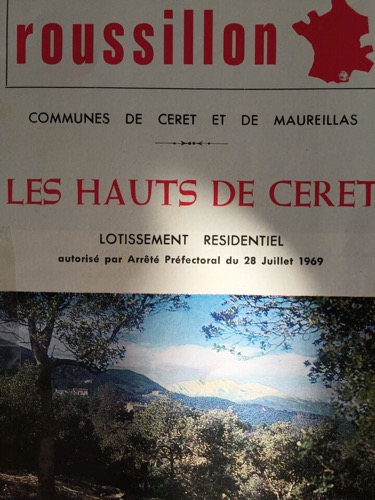 n 1967 when Rene purchased MasPallagourdi and the surrounding land and houses, there was only one road to the property, the Route du Balcon. This is a scenic but tortuous 5-km route down into Ceret which itself had only been built in the 1950s (more on this later). Rene wished to construct a new road and asked for financial assistance both from the Maire and from Jean-Louis Vigier, but no aid was forthcoming. So he built the road himself. A cutting from the Midi Libre of 29th January 1971 shows the opening of the new road. So all of us living in the Hauts de Ceret have Rene to thank for the (still very sinuous) road up to our homes. After he had built the road Rene set to. His vision was for a lotissement of about a hundred homes situated on the mountain top overlooking Ceret, with fabulous views of the distant sea and Canigou.
Maggie gave me a copy of the 1969 publicity booklet, in which the advantages of the location are spelled out. This lotissement is currently being built, the pamphlet says, on a part of the domain of Mas Pallagourdi, covering an area of 127 hectares. It is only 2.5 km from Ceret and 14 from the Spanish border, with various types of forest surrounding it.
Rene and Marie Louise were obviously cultured people who loved to travel around Europe and who also participated in local cultural events. Rene was a member of the Catalan theatre company Els Tres Ocells, run by Edmond Brazes in Ceret. I was lucky enough to see a programme for the review Terra Nostra in 1979. The booklet contains a number of very old photographs of Ceret which I have copied but unfortunately I am unable to read it as it is in Catalan! Hopefully some of those photographs can accompany future articles.
Of Mas Pallagourdi itself, when it was purchased in 1967 it was still a working farm, with sheep, cows and chickens. The crops harvested were those of corn and figs. Apparently there were 25 different types of fig tree but not all of these have survived, or at least we have not found them yet! Rene and Marie Louise themselves lived in an apartment in Perpignan, and when they visited at weekends the family would gather in the smaller Mas Capellans where there were many merry times. I believe Mas Pallagourdi was used to house animals in the downstairs part, with rudimentary accommodation for farm workers above. The middle part of the house seems to have been used for the pressing and storage of wine, but we have yet to find out more about that. Gradually the house was improved and taken over by Rene's son and Maggie's brother, Jean.
Next time I hope to report on a conversation with Monsieur Bertran, who lived at the mas as a young boy, before and during the Second World War.