The "Norwegian" baker of Port Vendres
By M. Michael Brady
The bakery near the Port Vendres mairie (town hall) outwardly seems much like similar Artisan Boulanger establishments elsewhere in France. But once inside, a customer from Scandinavia may discover a distinguishing difference: owner/operator Laurent Boudigue speaks fluent Norwegian.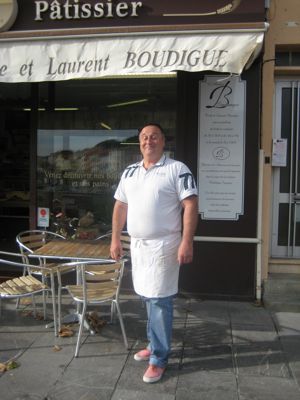 The story behind that curiosity starts in the early 1990s, when Laurent, then in his early 20s started his career in the insurance business in his native Toulouse. Educated at a commercial college, he was well suited for the job. Powerfuly built and agile, he played rugby, the team sport of choice in southern France. Life seemed assured. Then chance came in.
At the insurance company, he made friends with a colleague who had lived and worked in Norway for 20 years. After six months, the colleague left to return to Norway, explaining that he had lost much of his Frenchness. Laurent wondered what that meant. He was soon to find out. They kept contact, and in 1993 Laurent was invited to spend the Christmas holiday in Norway. That he did.
The holiday visit stretched to a pivotal three months. In June 1994 he was back in Oslo, with a punishing schedule of working six hours a day in insurance and learning Norwegian for five hours a day in an intensive programme. He triumphed at both: nine months later, he was assigned to customer support for Storebrand, a major Norwegian insurance company. He stayed at that job for eight years, first in Oslo, then in Tønsberg.
Upon turning 35 in 2001, he realised that a moment of truth was at hand. Should he stay in Norway, where he had assimilated so well that he felt Norwegian, or should he return to his native land? If he stayed in Norway, he knew what he would be doing. Returning to France was another matter. Continuining in insurance would entail moving to and working in Paris, which he found unappealing.
Chance again came in. He saw his future while working on an insurance claim that in part involved a bakery. He enjoyed making things by hand and had always wanted to be his own boss. Clearly he should return to France and become a baker. Learning to bake to have his own business in France could hardly be more difficult than learning Norwegian to work in Norway.
Back in Toulouse in 2002, he plunged into another intensive programme of re-education, first to obtain the French equivalent of a General Certificate of Education and then to qualify in the artisan skills of the bakery trade. Within a year, he was a certified apprentice baker working in bakeries in the Toulouse region, absorbing skills and ever on the lookout for a place to set up his own shop.
In 2006 he found one, a boulangerie put up for sale by the couple who owned it, as they were retiring from the trade in Port Vendres, in the Côte Vermeille of the Pyrénées-Orientales, the strip of Mediterranean coast near the Spanish border. The location in the town was ideal, just two doors from the city hall in Rue Jules Pams, a one-block pedestrian street overlooking the waterfront. Laurent acted with dispatch.
With the names of its new proprietarial couple, Cécile et Laurent Boudigue, on its awning banner, the boulangerie reopened in 2007. Soon Scandinavian customers coming into the shop found that he spoke Norwegian, often by chatting amongst themselves in making a decision on what to buy and being politely asked skal jeg hjelpe deg med noe? ("may I help you with anything?"). "They always were astonished", Laurent recalls, "as I don't look at all Norwegian. But then the Norwegianness acquired in Oslo and Tønsberg shows through."